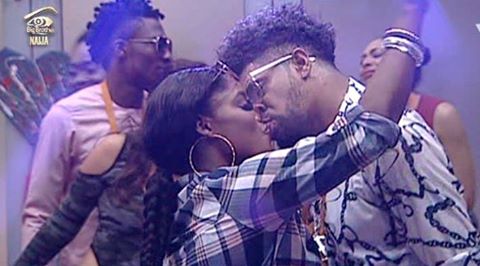 So, it's no news the party was beyond lit! and We saw some footage and pictures of TTT and Bisola kissing, smooching, rocking themselves during their pre-eviction party tonight!
Trust that after the party and booze, the housemates will be feeling some type of way! …and here we have it. TTT and Bisola went under the sheets..
All that making out was bound to lead to something. Bisola & TTT are getting busy under the covers. #BBSeeGobbe https://t.co/EbQhDuTWVv pic.twitter.com/8bwsXgfm44

— Big Brother Naija (@BBNaija) February 18, 2017
The video seems like "Bisola" bending down to suck TTT's cassava…. See for yourself… their mic was still on, so, you'd have to listen closely. Very closely. See the video below:
AD: How I went from a 2mins man to 35mins man in Bed. Now I satisfy my woman – See Solution Here
TTT said it will happen tonight and of I'm here by Monday it will happen every night 🙆🏼🙆🏼🙆🏼🙆🏼. Bisola he is married ooo. #BBNaija

— SC: mzkev (@mz__kev) February 18, 2017
After the bedroom, they both continued to heat things up in the Jacuzzi.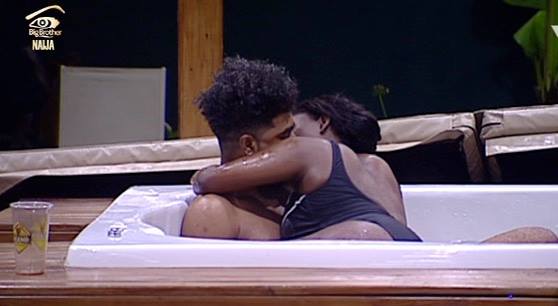 Some reactions:
We just witnessed the cannibalism of Bisola tonight according to my MFM G.O. #BBNaija

— Oreoluwa Peters (@OreoluwaPeters) February 18, 2017
Wait!!!
What did I just watch?
Did Bisola just give TTT a blow job? 😮

— MissAdebayo (@iamAderonbi) February 18, 2017
https://twitter.com/princesirdik/status/833086014562430976
Bisola Ashewo. #BBNaija

— Khosi Thom (@khosi_thom) February 18, 2017
Bisola just sucked dick and prolly guzzled nut.
Deal with it.

— JAGS⚡️ (@EtniesJags) February 18, 2017
Bisola má like Lollipop 🍭 gaan

— Tèmítáyọ̀ Onílù (@EmiNiTybaba) February 18, 2017
Bisola thank you for relieving TTT, he come dey talk sense now. Power of a good blowjob #bbnaija @BBNaija

— ENYOYI ESEOGHENE (@EnyoyiEse) February 18, 2017
Biggie suppose give Bisola Automatic Head of House on Monday… Head mistress…!!! #WehdonMa 🙇 #BBNaija

— Balogun Olatunji (@balxjnr) February 18, 2017
Hope bisola has brushed her teeth not after suckng ttt 's 🍆🍆 #BBnaija

— Mariam 🇺🇬 (@nayigamariam) February 18, 2017
That head Bisola gave TTT is something #BBNaija

— NiKi Posh (@NikeOnas) February 18, 2017
Bisola was giving TTT head….this night it's going down for both of em🍆🍆..#BBNaija

— Black Beatle🐞 (@EMEKE_05) February 18, 2017
What is bisola giving ttt head ? She don fuck up full

— Grandpa Drizzy (@Abdul_xpensive) February 18, 2017
#bbnaija the fact that Bisola just gave TTT head doesn't make her bad gal cos we don't know how long she could keep up without sex

— WORKIN WIT PROGRESS (@danpeaceme) February 18, 2017