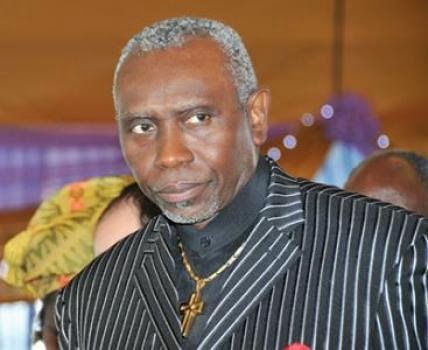 Pastor Kallamu Musa-Dikwa, a Borno Based Pastor, who is also the Executive Director of Voice of Northern Christian Movement spoke on the phone on Thursday and claimed that the actual money given to Pastors by the President was N7billion and not N6billion as opposed by Governor of Rivers State, Rotimi Amaechi.
Vanguard reported that Dikwa revealed that this money was channeled through the Chairman of the Christian Association of Nigeria, CAN, Pastor Ayo Oritsejafor.
In Dikwa's words:
"It was N7 billion that was given to the CAN leadership by President Goodluck Jonathan. CAN later disbursed N3 million naira to the State Chairmen of the CAN.
"The money was handed over to the CAN Leadership on 26th January, 2014.Actually President Jonathan is using CAN President, Pastor Ayo Oristejafor, and it was the CAN President that collected the monies and shared N3 million naira to the CAN executives in each State.And some Pentecostal Bishop including Bishop Oyedepo also collected his share. Actually, the money is not N6 billion, it is N7billion. This is what I know. One of the CAN officials from Abuja told me that they have collected the money. The corruption in CAN is terrible. They are corrupting the body of Christ because of money.
"They are now threatening Christians in Borno State that they will deal with anybody who refuse to vote for Jonathan. And the CAN officials are now campaigning that if Buhari emerges President he will Islamise Nigeria; and that Osibanjo collected monies from Islamic world; and that the same Osibanjo will resign soon after Buhari wins to give way for Tinubu to emerged Vice President.
"Pastor Ayo Oritsejafor CAN President, Bishop David Oyedepo of Living Faith Church and one Pastor Bosun Emmanuel got part of the money.
"Oyedepo threatened to open the gates of hell for those who do not vote for Jonathan. We wonder if Oyedepo has the key of the gate of hell in his breast pocket. That will be strange indeed. Just because of N7billion bribery Oyedepo ran-mad.

The CAN however, have come out to deny the allegations. Mr Sunday Oibe, the Public Relation Officer, PRO of Northern CAN spoke on behalf of the association:
"The allegation is a complete lie and just one of the many evil plots to dent the image of the leadership of CAN.
It is also to rubbish its integrity and make it morally incapable of leading Nigerian Christendom in this trying times. There was no way that Pastor Ayo Oristejiafor would collect a kobo on behalf of CAN and start sharing it out like a man sharing a booty.
"This man, Dikwa you are talking about is totally unknown in the CAN cycle and I am just hearing his name and that of his organization for the first time. How comes he could be privy to such an arrangement if it really existed. Please go and make your findings very well. It is a shame that anyone would cast such mean allegation, without giving a shred of evidence, just to fulfill a political agenda, at the cost of our ecumenism.
It is all to silent the voice of Pastor Ayo against the tyranny that Christians suffer in the north east and other parts of northern Nigeria. For the first time our oppressors findsCAN speaking up for its members, and they must do everything to frustrate Pastor Ayo. The kingdom of evil shall, again fail flat on the feet of Jesus,"