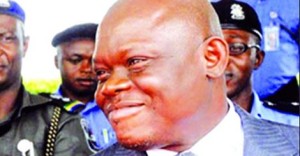 The Department of State Services has detained Gordon Obua, the Chief Security Officer to former President Goodluck Jonathan. It was learnt that Obua was arrested last Thursday and detained at the DSS headquarters in Abuja.
His detention, as gathered, was part of the probe of officials under Jonathan's administration ordered by President Muhammadu Buhari. The reason for Gordon's detention could not be immediately established, but it was gathered that investigators may extract salient information on key officials in Jonathan's government from the former CSO.
Sources also stated that the detention of the former security aide to Jonathan was meant to show that no former official in the past government would be spared if found to have mismanaged or embezzled public funds.
"The arrest and detention of the former CSO is an indication that every former minister or senior official under Jonathan's government are not exempted from probe except those that have no criminal suspicion or record of wrong doing in office," a source explained.
The DSS had last Thursday moved against the former National Security Adviser, Col. Sambo Dasuki, seized his passport and other vital documents and prevented him from leaving the house for about 24 hours.
Findings indicated that many more former officials would be visited and arrested by the DSS which has been mandated by Buhari to recover all looted public funds by the previous government functionaries.
The DSS could not be reached for comment as it has not announced a replacement for its former spokesperson, Marilyn Ogar, who was removed from the agency's Public Relations Department last week.
But a former Commissioner of Police, Abubakar Tsav, said Obua might have breached a security regulation hence his arrest and detention, noting that nobody is above the law.
He said:
"Security is the most important thing in a nation and if he (Obua) had breached a law, he could be arrested and detained. If his former boss (Jonathan), had immunity while in office, he doesn't have immunity. So, he must have done something wrong for them to have arrested him, I think they (DSS) are in order."
PUNCH