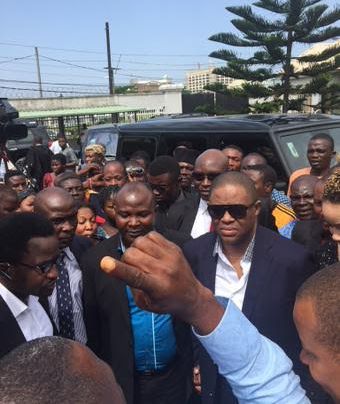 Mr Fani Kayode now, Mr Femi Olukayode celebrated today, after emerging victorious at the Federal High Court where he was discharged and acquitted of laundering almost N100Million when he was the minister of Aviation back in 2006.
The Economic and Financial Crimes Commission filed a law suit against him back in 2013. After his discharge, Justice Rita Ofili Ajumogobia said:
"It is apparent that the prosecution's case is feeble and has failed to establish that the accused person paid or accepted cash deposits exceeding the authorised limit and did not do so through a financial institution," the judge said.
"The prosecution has therefore failed to prove beyond reasonable doubt that an offence had been committed under Section 15(1) of the Money Laundering Prohibition Act (2004).
"I am of the considered view that the accused person, Chief Femi Fani-Kayode, ‎in the absence of copious evidence connecting him to the offence charged ought to be discharged and acquitted of the two surviving counts of the amended charge and I so hold.‎"