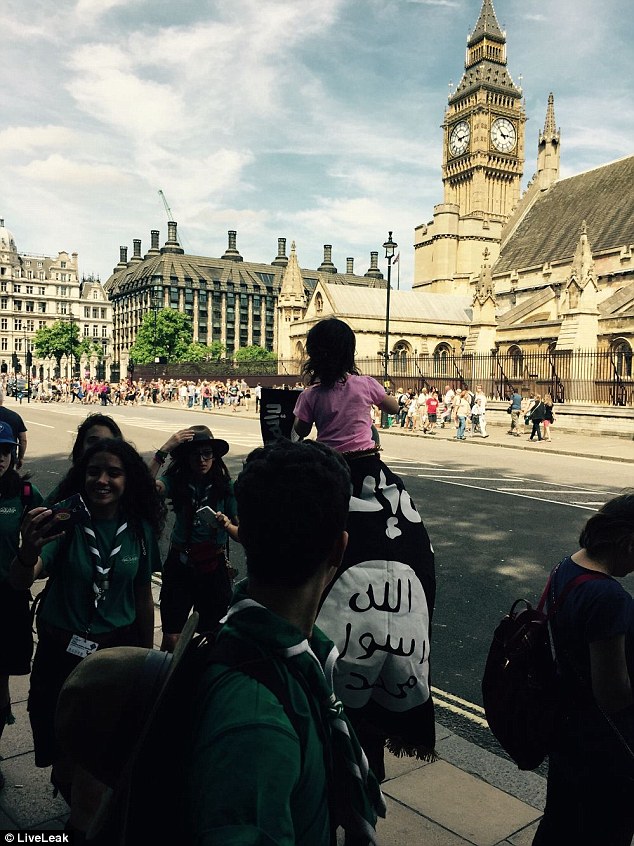 Outrage has emerged after a man who paraded past the Houses of Parliament draped in an Islamic State flag with a young girl on his shoulders was allowed to walk free by police.
Images posted on a Korean forum shows the man walking the little girl waving a smaller version of the jihadist group's flag just days before the anniversary of the 7/7 terror attacks.
The UK Police confirmed that they stopped the man in the busy tourist area on Saturday, but did not arrest him as his actions were deemed 'within the law'.
The decision has been slammed on social media, with many expressing disgust that the concept of freedom should not apply when it comes to a group as deadly and savage as ISIS
A spokesman for Scotland Yard said officers spoke to the man and considered his actions within the Public Order Act 1986. He said
'This man was spoken to by officers with consideration given to relevant legislation and a decision was taken by officers at the time that the man was acting within the law. He was not arrested."Wearing, carrying or displaying of an emblem or flag, by itself, is not an offence unless; the way in which, or the circumstance in which, the emblem is worn, carried or displayed is such as to cause reasonable suspicion that the person is a supporter or member of a proscribed organisation.While support of and membership of ISIS is unlawful it is not a criminal