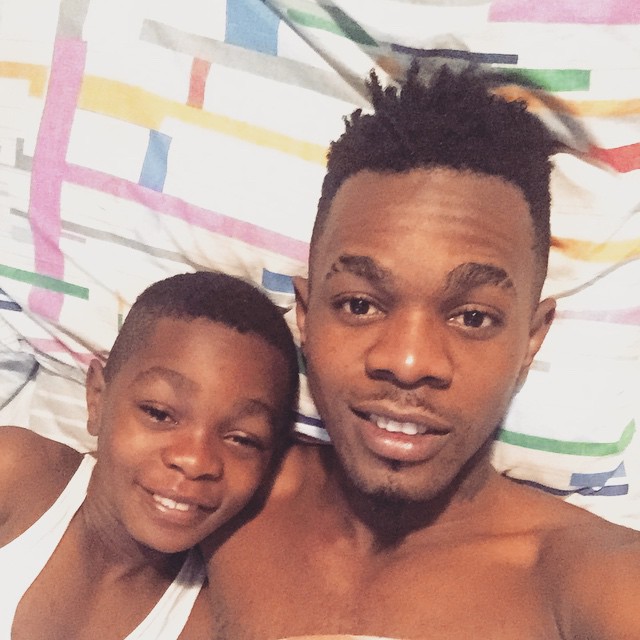 In an Interview with Saturday Beats, Patoranking denied having a son, he claims the 9-year old is his Baby brother, and the last born of his mother.
Here's what he told Saturday Beats in a new interview about the female singers who "twerk" for him on stage:
"It is not that the female singers just twerk for me, it is a performance and we make sure we give people what they want. Most people think they twerk for me and I get aroused or 'catch feelings' but I don't even respond to stimuli at all. We are just trying to make it look like what they do abroad. You see the likes of Beyonce twerking for Kanye. It is just a stage performance."
Patoranking also told Saturday Beats that marriage is not on the cards for him as he does not have a girlfriend:
"If I tell you that I want to marry right now, would you not lie me down and beat me? I am single and ready to mingle. Right now, I am just concerned about my career and family. Marriage is not in the question for me. I don't have a girlfriend. I am not a promiscuous fellow and if I ever need to blow off steam, I would rather make use of soap in the bathroom than be with random girls," he said jokingly.
The singer also dispelled rumours that he has a love child, claiming that the kid he takes pictures with on social media is his baby brother.
"I don't have a son; the boy people think is my son is the last born of my mother. He is my brother and he would be ten this year. His name is Rafa. He is my baby brother."
On why he chose to do reggae:
"One of the reasons I chose reggae even though it might sound funny is because of the girls. I remember back then in secondary school, if you did not know how to mime songs, you could not get the girls and I like standing out. I thought it would be wise for me to mime the songs that my colleagues won't know. I listened to more reggae songs. Whenever I did that, the girls were always impressed. I listened to a lot of Bob Marley and Lucky Dube's songs."