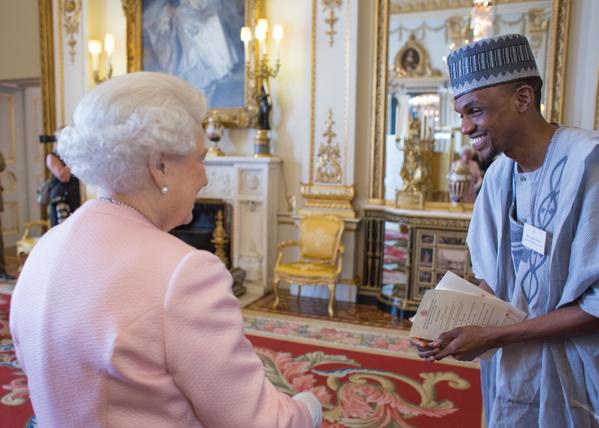 An historical event took place at the Buckingham Palace on Monday, 22nd of June 2015. This event featured her Royal Highness, Queen Elizabeth II of England and some other dignitaries.
The event's theme was to honour World Young Leaders from different parts of the globe. Among these World Leaders at the event, were few of Nigerian Indigenes, two of which are Ahmed Adamu, who happens to be a Chairperson of the Commonwealth Youth Council and Kelvin Ogholi who runs an Agricultural Based Foundation.
Kelvin and Adamu are two of the four Nigerians who were awarded by Queen Elizabeth of Monday, 22nd of June, 2015.
Adamu is spotted here honourably shaking hands with the Queen of England, which i feel is absolutely remarkable and historical. Not only was he just shaking hands, the youngster was also discussing youth issues with the Queen.
The Young Leaders Awards at the Buckingham Palace also had Nollywood actress, Stephanie Okereke in attendance.
See more photos of Ahmed Adamu with her Royal Highness below: