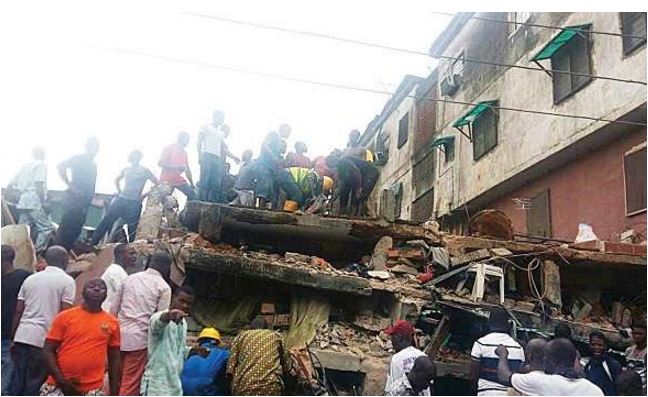 At least five lives have been reported to be lost as a result of four-storey building collapse yesterday, July 25.
According to report from THE Guardian Newspaper, the collapse of the hosue owned by the well-known Kafo Family has claimed lives of people leaving some others yet trapped in spite of the heavy rainfall leading to the crackdown.
The event happened at around 2:30pm yesterday.
The Director of Lagos State Fire Service, Rasak Fadipe, affirmed that apart from those rescued, efforts were still ongoing to rescue dozens who were under the debris.
The cause of the collapse could not be immediately ascertained as rescue operators among whom were officials of Lagos State Emergency Management Agency [LASEMA], Lagos State Fire Service, National Emergency Management Agency [NEMA], Nigeria Security and Civil Defense Corps, the Red Cross and the Lagos State Ambulance Service [LASAMBUS], as well as police officers,  have been coordinating the rescue operations.
Adeosun Akinfisoye,  a local resident claimed the collapse happened with no prior sign.
"We heard an explosion which caused everyone to take to his heels, only to discover later that it was a building that collapsed. People are still buried inside. A pregnant woman is among those under the debris", she noted.