The video of Nigerian actress, Olayinka Solomon seductively grinding her newly wed husband at their wedding reception recently in Lagos has left a number of netizens in awe.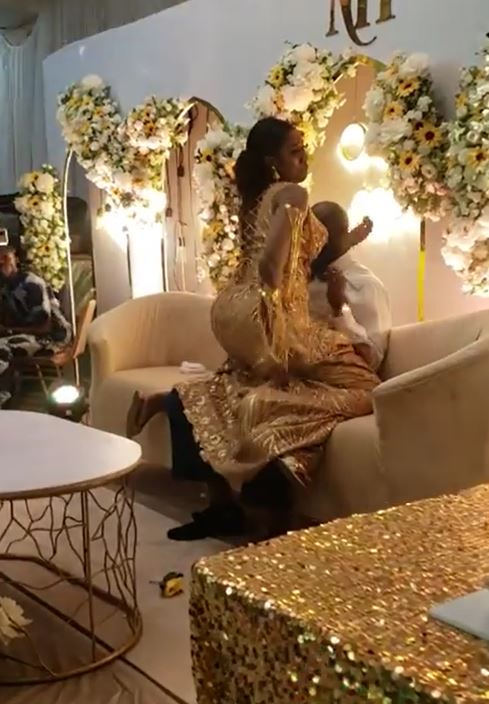 The actress married her beau over the weekend in the presence of her family members and friends — it was a double celebration for her as not only was it her wedding, but her birthday as well.
Olayinka Solomon who is commonly known by her stage name as 'Ogo Mushin' had taken to her page to share loved up photos of herself and her man, writing, "So this is what love feels like, I still can't believe you are mine"
While congratulatory messages filled social media, with photos of the new bride and her husband, a video from one moment of their wedding reception caused a stir on social media.
In the video, the actress is seen seductively grinding her husband in the presence of their families and guests and this singular act has had tongues wagging on social media.
Watch the video,
With a number of people exasperated by the act, others didn't see so much of an issue with the actress' action. Here's some reactions,
@hnnafrica wrote, Keep it real commenters. She likes it ON TOP. Forget the relatives
@moi_vee wrote, In front of parents and judgy relatives😢😢. Naa, nothing cute about this, get a room
@jibzyjay wrote, This is tacky
@akuoma2.0 She's not doing it the right way 😂😂
@karachiatiya wrote, What on earth happened to Shamefacedness!!!!!!!! What happened to being a queen? A lady? Etiquette??? There are families with children at this event most likely and even if there wasn't……. sigh.
@legendary_outfitss wrote, Pls stay married, we don't wanna her any divorce ish anytime soon, cos na una way
@vincentblackwell__ wrote, Disrespectful wen parents and children are around…mumu una too dey over do these things.