A South African woman, Wokuhle, has shocked netizens with the story of when she realized her supposed friend actually hated her.
The lady took to the microblogging platform X (formerly known as Twitter) to share how she was surprised to find out her friend did not consider her a friend.

According to her, she had helped plan the wedding because the friend could not afford a planner but was shocked when the friend uninvited her because she wanted only close people at the event.
"When I helped her plan for her wedding (she did not have a wedding planner) and 2 weeks before the wedding, I told her I don't know what I am going to wear to her wedding. Her response was, "Is it possible to not come? I've decided to invite close people.
No. She told me I was not invited, so I respected her wishes. I sent the present because I already had bought it and it was engraved her name x his."
See her post below.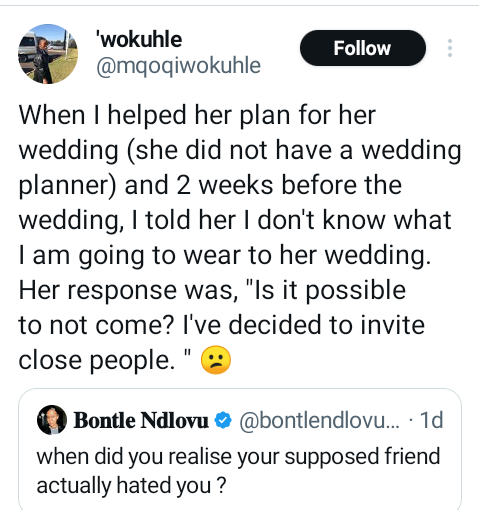 In other news, a couple of days ago, Big Brother All Stars housemate, Kim Oprah during a conversation with Ike and Venita about Angel's condescending comments about her, revealed how once upon a time, Angel was embarrassed when she tried to "famz" herself with a celebrity.
At the time, Kim revealed that Angel had been bounced by a bouncer when she attempted to "famz" Wande Coal at an event. She added that Angel was almost carried away by the bodyguard before she ordered him to drop her.
However, in a new development, following her eviction from the Big Brother house, Kim revealed that she was upset at the time and that was why she made that statement and that in truth, nothing of such happened.
She said she actually lied about the situation and nothing of the sort had happened.