Nigerian radio personality, Tolu Oniru better known as Toolz, as taken to social media to lament the nasty messages she receives from strangers on Instagram.

The mother of two while sharing a screenshot of a nasty message she received from an Instagram follower revealed she's always scared to check her DM, because of the kind of messages she receives.
In the screenshot that Toolz shared, the follower had asked the married media personality that he send her his nude photos.
Sharing the screenshot of the nasty message, Toolz wrote, "This is why I'm always scared to check my DM's. Too many mad ppl here mehn".
See screenshot below,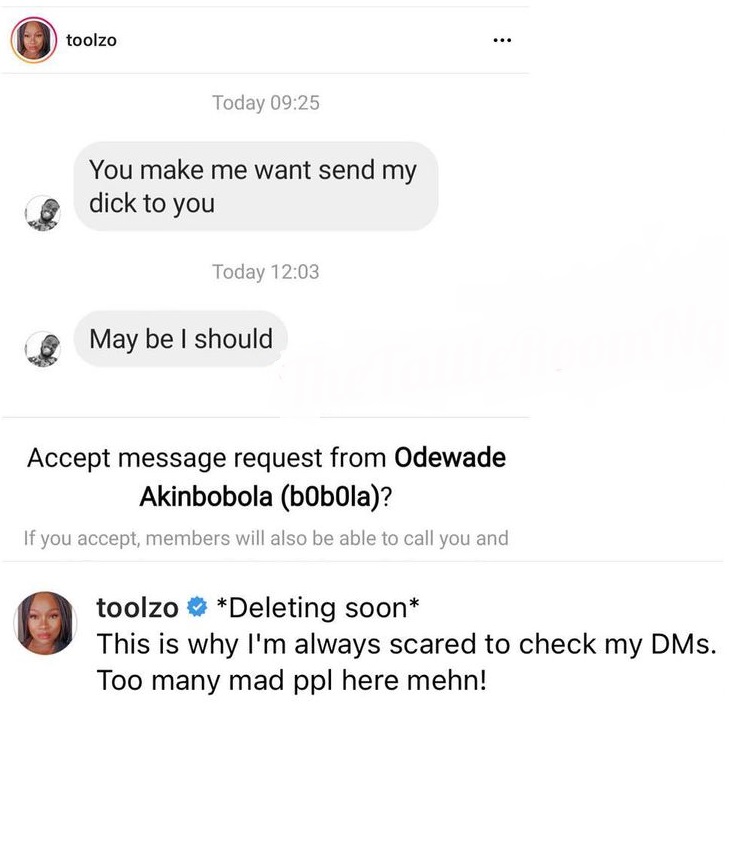 This is coming after the media personality narrated how a pregnant woman messaged her privately to enquire about supplements that she can take to enable her give birth to a fair baby.
The expectant mum who desperately wants her unborn baby to be light skinned noted that, she is not so dark but her child's father is very dark and she fears giving birth to a dark child.
In her words,
"Good evening ma'am please I don't know if you can me out. What kind of supplements should I take for my baby to be fair. The father is dark and I'm just your colour".
In response the OAP told the woman that there was nothing in wrong in giving birth to a dark baby, while educating her on the dangers of taking anything that isn't prescribed by her doctor.