Andy Ruiz, 29, a native of southern California, became the first boxer of Mexican descent to win a heavyweight title as he captured Joshua's IBF, WBA and WBO titles with excessive force and heart.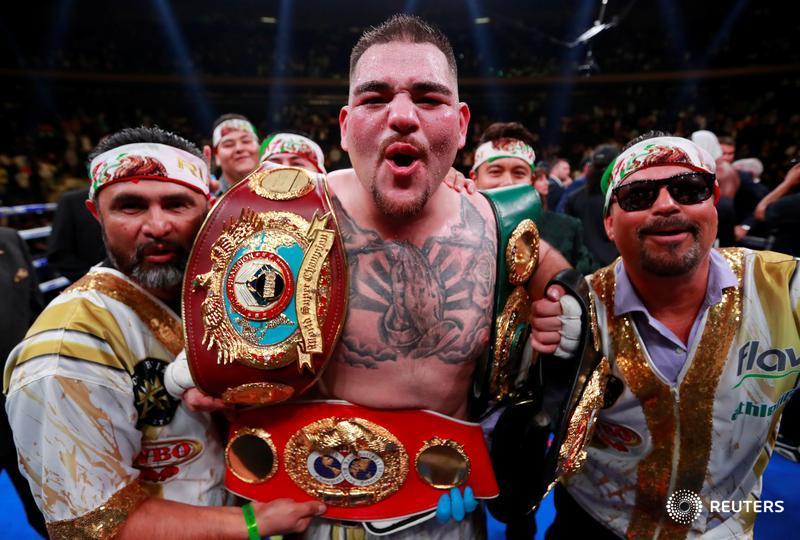 Ruiz (33-1, 22 KOs) spoiled the long-awaited U.S. debut of unified heavyweight champion and British star Anthony Joshua to score four knockdowns and record a spectacular upset via seventh-round TKO at Madison Square Garden.
Ruiz get up off the canvas early in Round 3 in order to do what oddsmakers felt was nearly impossible, he showed tremendous poise, power and fearlessness in systematically dismantling Joshua (22-1, 21 KOs) to flip the heavyweight division upside down
"I just want to thank God for giving me this victory. Without him this wouldn't have been possible," Ruiz said. "This is what I have been dreaming about. This is what I have been working hard for, and I can't believe I just made my dreams come true."
Ruiz never backed down from there despite letting Joshua off the hook in Round 4 when it was clear both fighters were heavily fatigued. Two knockdowns later in Round 7 and referee Michael Griffin jumped in at 1:27 to wave the fight off as Joshua was weary on his feet.
With the sold-out crowd, which was largely in favor of Joshua, stunned and silent following the stoppage, Ruiz jumped around the ring in wild celebration.
"Big respect to Andy, big big respect," Joshua said. "[He's a] good fighter. Thank you America. Thank you everyone for coming out this evening. Sorry I let my friends down, sorry I let my supporters down."