War between the Afolayan brother looks like it isn't ending anytime soon, as Actor Aremu Afolayan seems to be throwing shade at his siblings in his birthday post.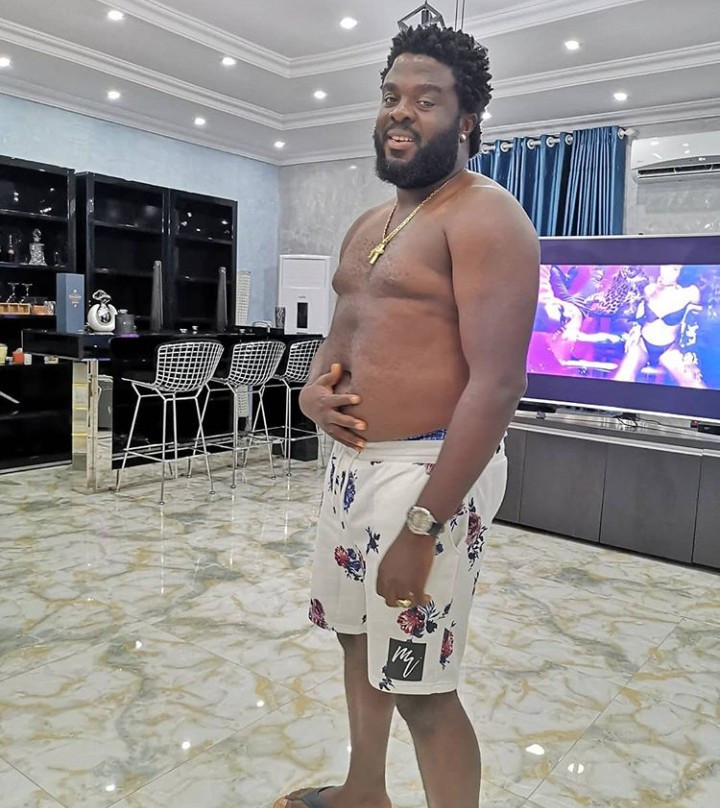 The tension between Aremu and his siblings is no secret, especially between him and filmmaker Kunle Afolayan.
Recall that last year, Kunle called Aremu "stupid" for claiming they grew up poor. Also, Kunle didn't offer him support when he received heat for calling out the President and Vice President of Nigeria and the Lagos State governor after he suffered an embarrassing incident at the Lagos Airport. What Kunle did, instead, was to correct those who mistook his brother for him.
To add to that, Aremu doesn't feature in his brother's movies and he once addressed that in an interview.
Well, with these on ground, Aremu took to Instagram to wish himself a happy birthday but he made sure to leave his brothers out of the post.
In the post, he thanked those who have played a part in his life. He thanked his mum, thanked his fans, then he thanked the people who love him and "those who God forced on him". He wrote this part in Yoruba but didn't provide names.
Aremu went on to defy his elder brother again by insisting they grew up poor. He narrated how they were so poor that he had to help his mum sell pepper soup and once had to steal money from his mum to take to school so he and his siblings could eat.
See what he wrote below.
Happy baiday to me
Glory be to God
Thank You IYUNADE, FOR ANYTIME I THINK OF YOU I Smile?
THANK YOU MAAMI
THANKS TO ALL MY FANS
THE PEOPLE THAT LOVES ME WELL WELL
AND THE PEOPLE TI OLORUN FORCE MI LE LORI
THANKS TO THE PEOPLE I LOVE
THANKS TO THE WORLD
THANKS TO RUGGED NIGERIA FOR MAKING ME RUGGED
THANKS TO MY LOCAL FILM INDUSTRY FOR MAKING ME WHO I AM PLUS MY FANS
THANKS THE THE INTERNATIONAL MOVIE INDUSTRY FOR MAKING ME BELIEVE WE CAN STAILL MAKE IT AND KEEPING ME STRONG
THANKS TO TOPE ALABI @TOPE_ALABI FOR NOT MAKING ME DIE AT YOUNG AGE, FOR GIVING ME MORE HOPES THROUGH OUT TILL DATE
THANKS TO NIKE FOR ALWAYS KIVING ME GOOD FOOD. ALTHOUGH I CAN COOK RUBBISH, BUT MY RUBBISH IS NOT ENOUGHT, I LOVE YOU LITTLE SISTER
THANKS TO ALL THE GOOD PEOPLE THAT HAS COME TO MY LIVE AND LEAVE WITH FIGHT
THANKS TO THE ONE THAT STAYED
THANKS TO ALL THE SCAMMERS IN MY LIFE AND THE ONES THAT HAVE USE ME, WE ALL DO THINGS TO MAKE URS HAVE FOOD ON OUR TABLE SO… I DNT BLAME YOU
THANKS TO MAAMI AGAIN FOR MAKING ME SELL PEPE SOUP THROUGHOUT MY GROWING UP IN A PROSTITUTE SHORT TIME HOME, LIVED IN A PLANK HOUSE FROM MY CHILDHOOD TO YEAR 2000,THAT IS WHY I NEVER NO BOOK TILL DATE… SO AM NOT BOOK SMART BUT, SURE I AM SO FUCKING BRILLIANT ??? HUG TO MYSELF. MAAMI, I REMEMBER WHEN I FIRST STOLE UR MONEY COS ALL I HATE TO SCHOOL IS PEPE SOUP, AND I NEEDED MONEY IN SCHOOL. YOU THOUGHT I WAS STEALING COS AM A BAD CHILD SO, YOU ASK BROTHER AZEEZ TO FOLLOW ME TO SCHOOL AND FIND OUT, THE TO YOU GREATEST SUPPRES, I GAVE IYA BUNMI, THE WOMAN THAT SELLS FOOD TO US AT SCHL ALL THE MONEY I EVER STOLE FROM YOU.. SO THAT ALL MY JUNIOR ONCE WHO HAD NO FOR TO SCHOOL AND WHO WUNT EVEN GET HOME TO MEET ANY….. ????? JUST FOR THEM TO HAVE SOMETHING TO EAT AT SCHOOL, THEN U CRIED STILL BEAT ME FOR GIVING THE LITTLE WE HAD TO PEOPLE WHO DOES NOT. BUT, LATER YOU SAID PELE OKO MI OMO ALAANU? SINCE THAT LITTLE ME THEN, I KNEW IN THIS WORLD THE POOR ONLY GIVES TO THE POOR, THE RICH ONLY GIVES TO THE RICH? BUT, YOU KNOW…. WE ALL SURVIVED. THANKS TO YOU MAAMI, I WILL DO ALOT FOR MY OWN IYUN AFOLAYAN TOO. I AM STILL HERE❤️ HAPPY BIRTHDAY AREMU