Popular Kenyan socialite, Huddah Monroe, has said she cannot stay without the male member while admitting that men have bought her cars and houses.
She made this revelation on Instagram during a question and answer session with her fans and followers.
An Instagram follower had asked if she would describe herself as cold-hearted when it comes to dealing with men.

Replying, Huddah wrote, "First I can't do without dick. Cold hearted? Men have bought me homes and cars and I 've never been single all my life. Dunno how they do that to a cold person." she wrote.
See their exchange below,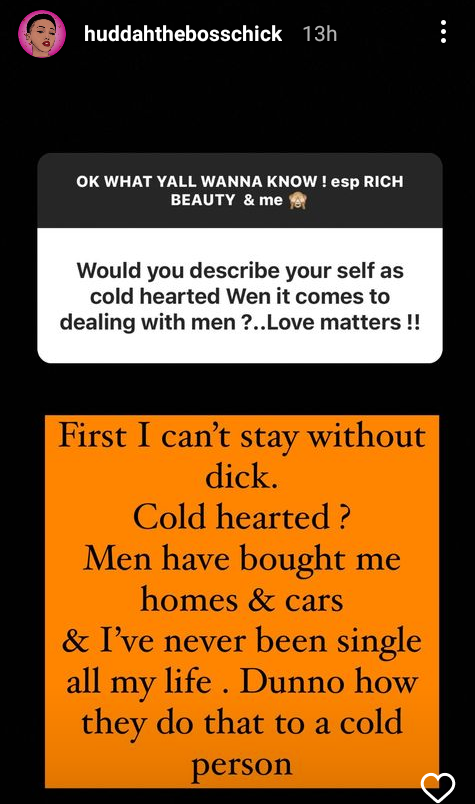 A while ago, Huddah Monroe advised women against the use of adult toys.
The Big Brother Africa star gave this advice via her Instagram stories while she shared her experience with using them.
According to her, she developed a loathing for men after the few times she tried using adult toys, and it became difficult for a guy to please her sexually.
She said the toys made her lose all desire for men, and it only got better when she stopped and got rid of the toys.
"I don't masturbate I tried few times and trust me. I hated men! I lost all my desire for men. My man I couldn't make me cum unless he fks me for 3hrs. So I stopped threw all toys and started using my fingers. He just needs to rub his d*k on me, And I'm like a waterfall now, don't play with batteries". She wrote.