Popular clergyman and marriage counsellor, Kingsley Okonkwo, has advised women to be wary of cheating men.
The Lagos-based preacher, in a post shared on his Twitter page, averred that if a man cheats with a woman and ends up getting married to her, he cannot be trusted to be faithful in the marriage.

According to him, there is a good chance he will cheat on her with a different woman as well, if they get married.
Speaking further, he noted that exchanging marital vows does not automatically change a man's character.
In his words,
"If he cheats with you, he will cheat on you, saying 'I do' doesn't change your character".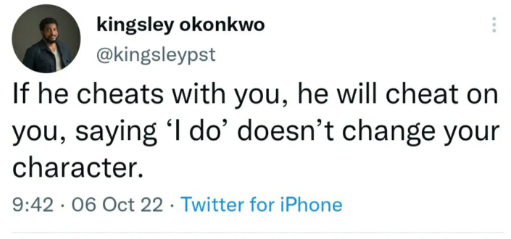 In other news, Pastor Kingsley Okonkwo, has urged single people to put off sex until they are married.
The clergyman stated this in a recent sermon while speaking on the possibility of keeping godly relationships in this present time.
Pastor Kingsley, who noted that he has joined more virgins in marriage than non-virgins, averred that people who wait until marriage have a better chance of having a long-lasting marriage, than those who have 'sexual experiences' before marriage.
According to him, until one is married, every sexual experience is a waste of time.
"Yes, it's possible to have a relationship where there's no sex. Don't let any devil deceive you, don't go and build a relationship on a foundation that will never stand. There are many godly relationships. I have more virgins than non-virgins in my life…They have a chance for the marriage lasting than all this experience you're gathering. Until you meet the person you want to marry every experience you're gathering is a waste of time."<.blockquote>