A 33-year-old South African woman who has gained popularity over her decision to keep her virginity has criticized women who pray for their cheating spouses.
In a post shared on Facebook, the woman identified as Zukiswa Joyi, threw jabs at women who pray for their cheating husbands to change their ways instead of walking out of the marriage.
According to her, even Jesus Christ instructed people with unfaithful partners to leave the marriage, but some women prefer to stay back and endure physical and emotional abuse, and also face the risk of contracting a sexually transmitted disease.

Zukiswa wrote,
"When it comes to cheating Spouses, Jesus Christ didn't say you should pray, he said leave. But you Prayer warrior of the most high you are there Praying and collecting diseases and emotional and Physical abuse, even Jesus can't save you" she wrote on Sunday, October 30.
"Even God walked out on Israel whenever she was cheating (bowing to idols or other gods) he left them in the hands of their enemies until they came back to their senses and humbled themselves and left their side coks to be with him the Husband."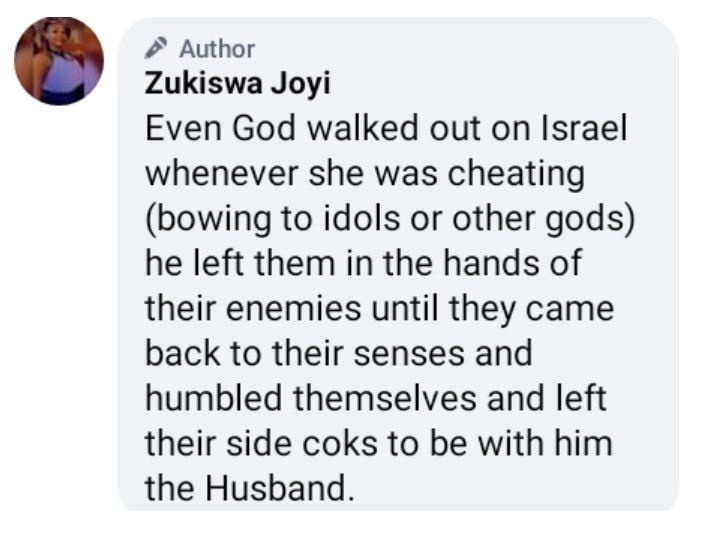 A while back, Zukiswa Joyi said it's easier to hear God with closed legs.
Her post elicited varying opinions as some netizens strongly agreed with Zukiswa while others vehemently opposed.