Popular crossdresser, James Brown, made quite an impression at the birthday party of influencer, Papaya ex, on Sunday, January 9th.

Papaya threw a grand party to celebrate turning a new age and invited some Nigerian celebrities including James Brown to come celebrate with her.
Interestingly, the controversial transvestite who donned an oxblood ball gown with gloves, showed up at the party with two "traditionalists".
The two men who had white markings all over their body and tied white cloth around their waists were spotted with James Brown at different times at the event.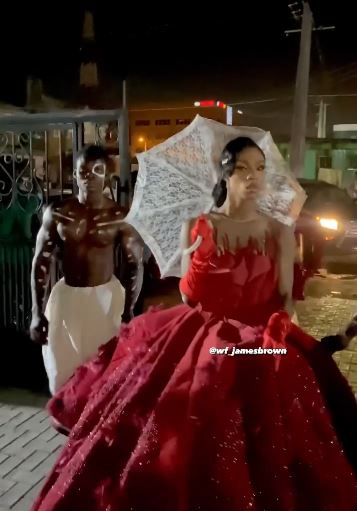 He shared a video of his unique entrance on his official Instagram page and it has gotten netizens talking online.
It's safe to say James Brown's entrance was the highlight of Papaya Ex's birthday party.
Watch below,
This stunt is not new to the Nigerian entertainment industry as socialite, Pretty Mike of Lagos, is known for pulling unique stunts at events.