Ghanaian music producer, Breggle Acha Derrick, has averred that dating a Nigerian woman is like taking care of an orphan.
Breggle took to Twitter to make this assertion on Thursday, December 1. According to him, dating in this generation is complicated because it's hard to tell if your partner truly loves you or is using you as a poverty alleviation plan.

"Dating is now complicated cos you don't know maybe the person need help or love. I hear say dating a Nigerian woman nowadays is like taking care of an orphan," he tweeted.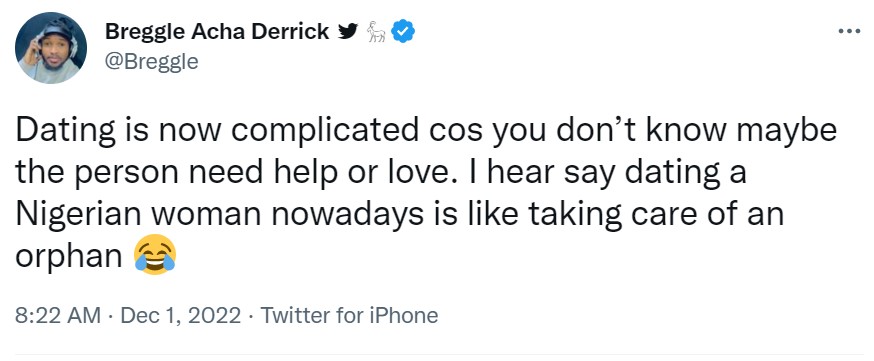 Meanwhile, his tweet has elicited mixed reactions from Nigerians on social media, the bulk of whom disagreed with his stance and told him to leave Nigerian women alone and date women from his country instead.
An Instagram user reacting, @08.nextdoor, wrote, "You guys are so obsessed with Nigerian women,that's how that South african lady was talking about the other day,today is a Ghanaian man talking about us. Oya leave Us alone,is not like we forced you guys to date us oo,our men are not complaining like this.DATE YOUR COUNTRY WOMEN AND MEN 🙄"
@mylady_eve wrote, "Coming from a producer that will not blow 🙄everytime Nigeria this Nigeria that Oga face your country babe…"
@juliecorca_lova wrote, "You leave your ghana girls wey dey beg for money from men come face naija babes dem. When will ghana ppl leave naija matter alone??naija norbe ghana mate for anything Google am."