A mild drama ensued after a bride was unable to enter the car meant to convey her to her wedding venue due to her tight-fitted wedding gown.
A video trending online captures the pain-staking moment the bride had to be assisted into the car because of her corseted wedding dress.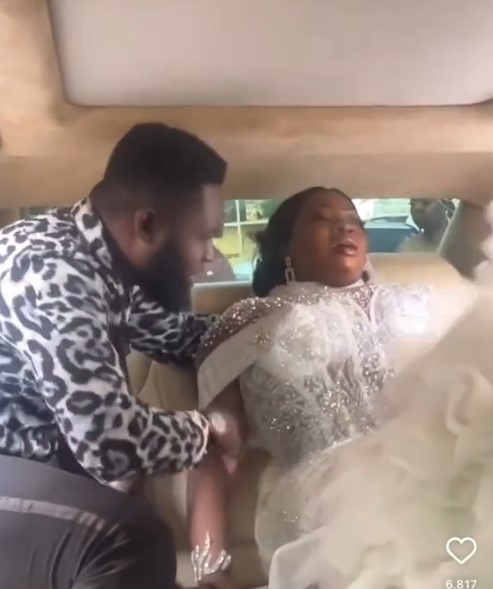 The wedding gown was so tight that she could barely breath and move her body with ease.
In the viral clip, a man is seen pulling the bride into the car while another person helped put her legs into the car, and arrange the flamboyant dress.
The video was quite chaotic as the team tried their best to fit her into the car, which they were luckily able to do.
Watch the trending video below,
In other news, a video that captures the moment a wedding guest touched a bride inappropriately at her church wedding has gone viral on social media.
The incident reportedly took place in Enugu-Ukwu, Njikoka Local Government Area of Anambra state recently, and it has sparked genuine concern from netizens.
After the couple were joined in Holy Matrimony, they stood at the altar and their wedding guests came to hug them one after the other.
However, a female guest was seen touching the bride's crotch instead of hugging her like other guests did in a video recorded by a bystander.
Though it's not clear if the woman did it absentmindedly, the video has sparked concern from social media users who questioned why she had to touch the bride in her private part of all places. Watch here