It is often said that Ambition is the path to success but some people are born naturally ambitious and some are less ambitious due to certain factors.
A young lady, @ItsMisola, took to her social media page to explain her lack of ambition growing up, how she was comfortable with settling for less, and all the effort she put in to achieve her 'dream job'.
Growing up, some dream jobs often heard from kids might be that of Doctor, Engineer or Pilot.. however, Misola's dream job was to bake and sell cakes to her colleagues in a Local Government Area Secretariat.
Her post reads –
"I can't believe my dream job was to be working in any LGA secretariat and selling cake to my colleagues.
Even when Lagos state posted me to a private company for my PPA, I was sad because I wanted to serve in any LGA just to kick start my career. I said I'll go to the company and ensure they reject me so I can go and beg NYSC to post me to an LGA. "
This sounded like the dream of a young child in their elementary years and as such, netizens were extremely shocked to read that this was the goal of a young adult and they didn't hide their shock.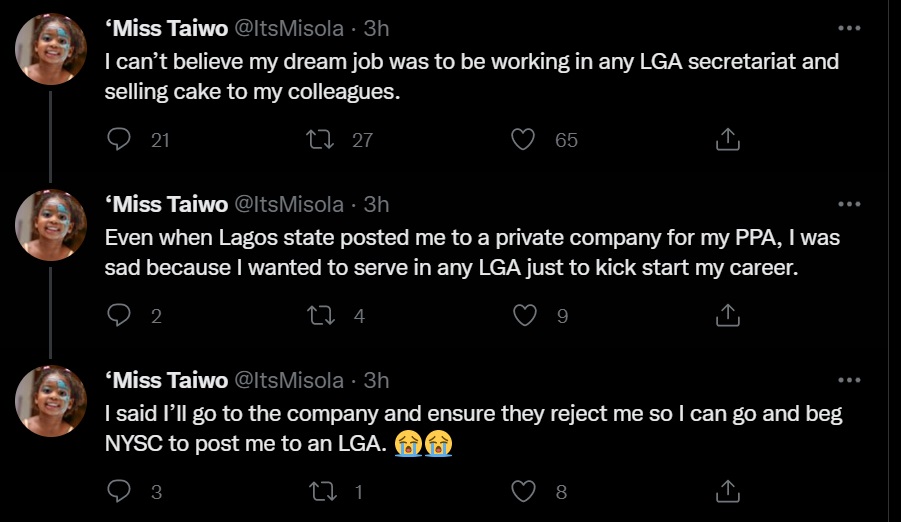 Here are some of the reactions;
@Remmzor__
"I thought it's when you were in primary school o"
@Udochuky
"Environment we find ourselves & the people we see have a lot to play in the way think most times. It will take conscious effort to re-engineer one's mind to be ambitious and seek for something better"
@joshuerbrands
"I would have written a formal letter to Sandman if I had such dream."