Some Nigerians on social media have set boundaries for American rapper, Future, after he expressed his admiration for Nigerian singer, Tems.
Future, who has multiple children from eight different women, including a son from his ex-fiancée, Ciara, had taken to Twitter to praise Tems' sensational voice after he sampled her on his song.

He described her voice as amazing and stated that it instantly connected to his soul.
"Even tho wait for u is a sample and not an original recording I still put Featuring @temsbaby if u wasn't familiar with her work. Thank u Tems", he tweeted.
Shortly after, he put out another tweet hailing the "Essence" crooner.
"Soon as I heard the @temsbaby sample over @atljacobbeatz Instantly connected to my soul", he wrote.
In the space of one hour, he put out a third tweet praising her voice.
He tweeted, "@temsbaby VOICE IS AMAZING"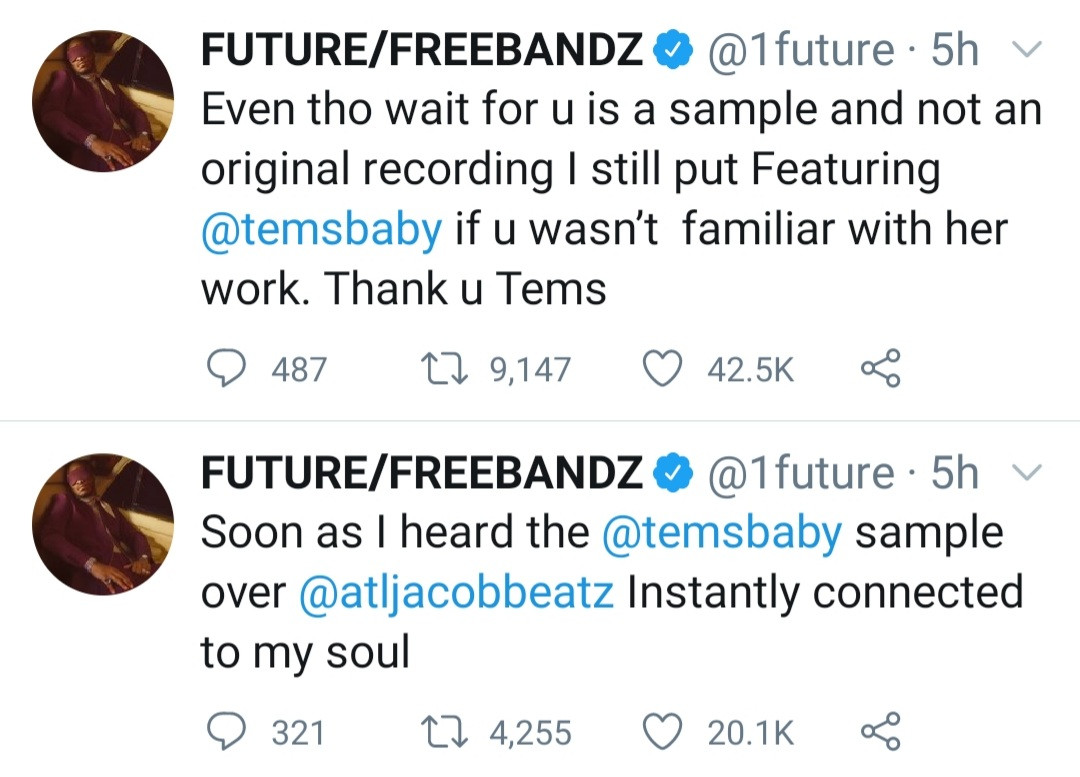 In response, Tems took to the platform to appreciate the 38-year-old rapper for his kind words.
However, Nigerians read meaning to Future's tweets and warned him not to take his admiration any further because they don't want Tems to be his ninth babymama.
See how some reacted below,
@ayomideikuomol3 wrote, "We know, don't add her to the list of your baby mamas"
@sisteroge wrote, "Hope say na only her voice amaze you?? Hope it's only her voice that is amazing?? Hmmm let me not repeat myself sha"
@onlyoneadatos wrote, "hope u haven't checked her backside cos I no trust you bro future"
See more reactions as you scroll,