Nigerian rapper, Oludemilade Martin Alejo, better known as Ycee, has appealed to Nigerians to get their Permanent Voters Card (PVC) ahead of the 2023 elections.

Taking to Twitter, the "Omo Alhaji" crooner stated that people exercising their rights to vote is a strong form of protest and they should get their voters card as soon as they can.
According to him, he is tired of "old heads" running the country into the ground.
The 28-year-old singer tweeted,
"PLEASE LETS ALL BE SURE TO GET OUR PVCs AS SOON AS WE CAN!
EXERCISING YOUR RIGHT AS THE VOTER IS ANOTHER STRONG FORM OF PROTEST
Enough of these old heads running this country into the ground."
See below,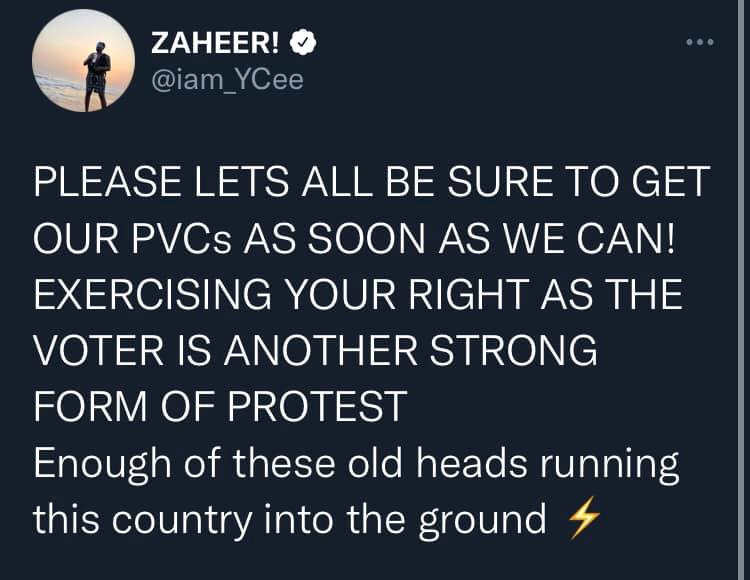 A while ago, Ycee posed a question to broke people living expensive lifestyles.
The rapper took to Snapchat to wonder how people want to live large and rock expensive outfits despite being financially handicapped.
Brooding over it, the 'omo Alhaji' questioned where they get the guts to want to live such lifestyles.
The Jagaban hitmaker wrote;
"I honestly really can't stand you lot that wanna be doing luxury lifestyle (fancy outfits and what not) but zero on the finances … like where do you even begin to get the mind?????
You rock all the Gucci and the LV and the balanciagas and co … you wan come Dey bill me wey Dey manage my Nikes and my Zara God Abeg
Finance Your taste"