In a new interview, Nigerian rapper, Olusegun Olowokere, popularly known as Iceberg Slim, has disclosed that he's not exploiting Ghanaian actress, Juliet Ibrahim for fame.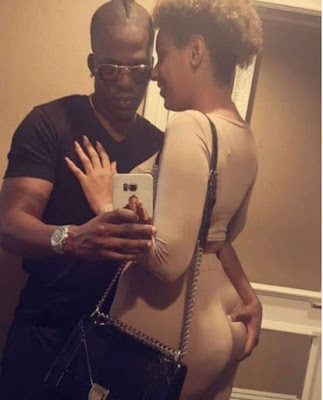 The music star has recently taken the Nigerian and Ghanaian social media by storm following the news of him dating the screen goddess and flooding our Timelines and pages with their loved up photos and ass squeezing.
Although Iceberg hates to talk about his romance with Juliet Ibrahim, the US-born rapper opened up on their romance in the interview.
What are we expecting from your new song?
On my new song 'Oluwa', you should be expecting a side of Iceberg Slim that the world has probably never seen. I've decided to showcase my versatility.
Why has it taken this long to drop it?
It took this long because I was going through a lot, mentally and emotionally. I took time off, to be with my family and loved ones, during our loss.

I'm coming back to Nigeria, I needed to make sure that I was in the best state of mind, to release new music.
Is there going be something for your new love, Juliet Ibrahim, in the song?
The song is about me, speaking to God (Oluwa), pleading for his blessings and grace over myself and the people around me.
The genre of music you were exposed to at a tender age is totally different from what you do at the moment: Why is that?
I was exposed to a lot of Sunny Ade, Fela, Obesere and the likes, but growing up in New York City, I couldn't speak Yoruba. I appreciated the instrumentation and melodies simply for what it was, great music.

I played the drums and the keyboard in church, and it was the things that I learned from those songs that I replicated. I also sang in the choir, and I'd often use the harmonies/melodies that I heard from those artistes.
Why is it that international artistes have a huge influence on most Nigerian artistes than our African legends?
International artists have a huge influence on most Nigerian artists because most yearn to reach those heights, or level of success, so to speak. Many of our artists want to be known and accepted beyond the walls of Africa, which creates this telescopic mindset that "Whatever they're doing over there, let me replicate it. Be it the dressing, slang, hair, jewelry etc…" simply put, their eyes are on a bigger market.
How were you able to clinch collaboration with the likes of Ja Rule, 2face, Tiwa Savage, the late Dagrin, Vector, Eldee, Banky W, MI, Ice Prince etc?
I was able to clinch such collaborations simply by the grace of God. I've never had to beg or pay for a collaboration, and I believe it's because everyone that I've ever worked with has had this mutual respect for my art and talent.

I've been privileged to connect with these people, both personally and musically.

You seem to be well connected internationally, why are you yet to be popular among music lovers in Nigeria?

I think this is because my past, lack of consistency. It's easy to get people's attention, but it's hard to keep it.

Once the spotlight is on me, and people are awaiting what's next, that's when I'd usually just disappear. If you don't hear from or about Iceberg Slim, you'll forget about him. Perhaps that may be the reason. But this time around, I'm here to stay.
Rumour has it that you are exploiting Juliet Ibrahim's fame to rise to stardom. How true is this?
Rumour has it? I've never heard such, and besides, there will always be rumours when you're in any form of spotlight. I'd never exploit anyone, for any type of gain.

That would be extremely selfish and immoral. Such behavior goes against my code of ethics.
Critics consider your accusation that Phyno and Peter of P-Square copied the hairstyle you introduced to Nigeria as a publicity stunt. Is this true?
The statement was taken out of context, hence why some would see it as such. I was simply making a reference to the Mohawk hairstyle that became my signature in Nigeria, and then I saw some artists later replicating it.

I wasn't condemning them, nor was I looking for attention. If they were both unknown artists, my point wouldn't have been misinterpreted, my words would've been understood in the simplest format.
If you weren't an entertainer, what would you possibly be doing?
If I wasn't an entertainer, I'd probably be an FBI agent. Growing up, I always took a liking to law enforcement, from solving crimes to bringing people to justice, I admired it all. I went to school to study Criminal Justice.
What was it like when you lost your mom?
Words can't describe the feeling. It's like literally losing a part of your body, you can never be the same or whole again. The day that I recorded "Oluwa" was the last day that I had spoken to her, before she passed away.

She had always encouraged me to make songs embracing my faith and background, from the church. When I spoke to her that day, she even assisted with the pronunciation of some of the Yoruba words that I used. I made that song to make her proud. However, God called her home a few days later, and she never got to hear the finished song.
Do you feel comfortable with where you are in the Nigerian music industry?
I'm not comfortable with where I am in the Nigerian music industry, but I am content because I know God has a bigger and better plan. I'm working on God's time, not man's.
Why didn't you practice criminal justice since that was the first thing you studied?
I didn't practice Criminal Justice because I had a huge battle within myself. The tussle was between Goals vs Dreams…Career vs Passion.

After two years, I left the University where I was studying Criminal Justice, to enroll myself in a music school, to study Audio Engineering and Production. It was definitely a tough decision.
How would you describe yourself: a lover, a romantic, a fighter, or what?
I'd probably say I'm all of the above, because I can romantically fight for love.
What do you look out for in your women?
I've found what I've been looking for, in the woman that I have. The three C's…Character, Charm, and Charisma.