Nigerian actor Sam Ajibola, better known as Spiff in 'The Johnsons,' has filed a lawsuit against TikToker Gossipbobo and blogger Tunde Ednut for making a derogatory post about his wife, son, and former president Olusegun Obasanjo.
Gossipbobo, whose real name is Ifeanyi Aniekwe, posted a video featuring a photo of Spiff, his wife, and son with the former president alongside a suggestive caption that seemed to question the paternity of Spiff's son.
"Obasanjo and his Secretary's baby boy," Ifeanyi wrote.
See below,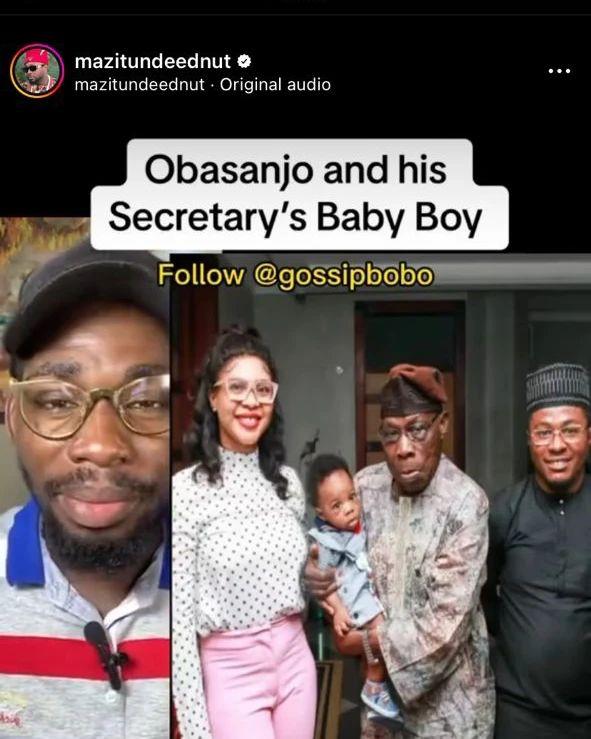 After sharing the post, blogger Tunde Ednut reposted it on his Instagram page, and it received a ton of derogatory comments from internet users.
This didn't sit well with Sam and his family, and they have now initiated legal proceedings against Gossipbobo and Tunde Ednut.
Sam said he was really hurt by the narrative, as this is not the first time people are peddling defamatory allegations against his family.

He recounted how netizens claimed his wife was older than him at the time of their marriage, and accused her of being controlling and asking him to quit his role in 'The Johnsons.'
He added that they have now found a scapegoat that would serve as a deterrent to others. He stated that a national security advisor, a Magistrate of the Supreme Court, and his wife's legal advisor are on top of the matter.
He shared photos of the legal document where he demanded the sum of N10 million and a public apology from the TikToker.
He wrote,
"Trouble dey sleep, Yanga go wake am.

Wetin him dey find? Palava him dey find.

Cat dey sleep, rat go bite his tail.

Wetin him dey find? Na Palava him go get.. So contrary to many opinions as to why I haven't come out to clear the air on the defamation of my wife's character on this issue, you will all please bear with me as I needed some real good time to properly analyze all aspects of it and come up with a best solution to all of these bickering that has been happening since I announced my wife to the world. This harrassment has continued from my engagement news where they began with false allegations that my wife was older than I am and was controlling my decisions like leaving The johnsons, to blatant lies that she was called my class captain, and now for over a year these trolls have further bear false witness to the point where they question my wife's unquestionable fidelity to me, and ultimately bullying my innocent son who they have planned to grow and meet these false allegations.

This is the very reason why a lot of famous and prestigious people crave for private lives. It is because lately, quite a number of young people on social media (as we have observed from the comments and all) are mostly dysfunctional and insensitive youths with the confidence in their false witness when they display their disrespect for others in societies where there is a huge lacuna of societal leadership.

This clearly as in this case of @gossipbobo , whom in sharing his misinformed opinion about our lives in public to the detriment of their mental health, relates to the almost impossible art of most Nigerians who can easily die from not "minding their own business".

Honestly, I'm hurt and for the sake of being a proper boy from the streets of surulere, I know how to find justice there but for the sake of my emotional maturity, I have found more decent and honourable ways to handle this lingering issue, from the various powers I know in the Judicial/security sector. As we speak a national security advisor, a Magistrate of the supreme court and my wife's legal advisor are on top of the matter. Thankfully, we have found a few scapegoats to use in warning others to stay away."
See his post below,