Popular Nigerian crossdresser, James Brown, has revealed that he's in a romantic relationship with a lady.
The transvestite made this revelation on "Frankly Speaking" podcast with media personalities Nedu, Naomi, and Adetoun.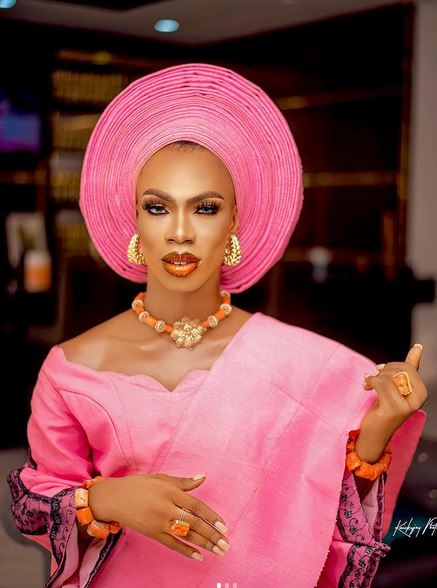 According to James Brown, who noted that he's super excited about the development, adorning himself in female clothing is merely a lifestyle choice and didn't in any way affect his sexuality.
James didn't reveal the name of his girlfriend, but he did mention that this is the first time he'll be in a romantic relationship with a woman, and it happened in the UK.
Watch him speak below,

A while ago, James Brown reminisced on his journey to stardom.
The crossdresser took to his social media page to share new photos of himself while going down memory lane.
He recalled vowing as a child that he will "blow" someday. He also recalled being arrested with others at a party, said to be a gay gathering.
In his words,
The Princess of Africa ! I am so greatful to God for all he has done … I know where I started from starting from the day I was arrested but now I am flourishing well because I believe in myself and I'm confident in me … yeah it's tough and it's not easy but yes baby girl / boy you will get there just like I did ! I'm proud of me , proud of what I've become and proud of the lives I've touched.

I give God all the glory because I know where I'm coming from … When I was 9 years old I looked at the stars and told myself I'll blow and look at me now ! It's been 3 years of fame it's not been easy but I made it and I'm proud of myself and I'm proud of the fact I've touched peoples lives through my foundation @jamesbrownfoundation by helping those in need. There's soo much more of me to come, royalty moves".