Nigerian gospel musician, Nathaniel Bassey and his beautiful wife, Sarah are celebrating eight years of marital bliss, today, April 13th.

The couple got married in 2013 and are blessed with two wonderful children. To celebrate their marriage the singer took to his Instagram page to share a short video clip that captures a part of their love story.
"8 years of God's goodness. I remember. We remember. Hallelujah We nor go forget !", he captioned the video.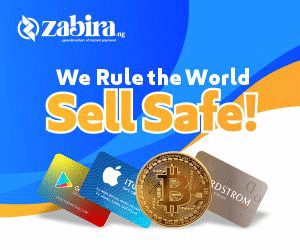 Watch video below,
In other news, the clergyman has taken to his Instagram page to write of how he moved from Heartbreak To Praise break and how the sad event led him to his wife.
Recounting the experience, he wrote,
I have shared the story of one of the toughest times I experienced. However, one which led to meeting my wonderful wife. I hope these tips help you if you are in a similar situation. A Heartbreak can become one of the most powerful forces of change in your life. I got a call from my ex saying "This Thing is over."

Now this was tough. Especially coming from someone I thought could worship the very ground I walk on. At least so I thought. I never felt a pain that sore in my whole life. I mean, I've lost some loved ones, but this pain was in a class of its own. All efforts to get her to talk failed. So I prayed, and was convinced I had to move on.So I went through the following process.

1. I made sure I experienced healing in GOD's presence. You see, many times people don't get healed before they jump into another relationship. I made up my mind not to use someone as my temporal pain reliever. So I spent time Worshipping, and just shedding the tears before my Father in heaven. Then I was led to listen to some sermons which spoke to my situation. This process led to the next.

2. The more I spent time with God, The easier it was to FORGIVE! People! You've got to FOOOOORRRRGIVE. This isn't just for your "heartbreaker." It's more for YOU! You will definitely hurt someone if you jump into another relationship without experiencing and giving forgiveness.

3. Get lost in GOD. In fellowship and His Service. Make the Holy Spirit your lover, friend and companion. Let Him shed His love abroad in your heart. Serve God. Get busy for God that you can't even remember anything RELATIONSHIP (with the opposite sex ), of course until God says it's time.

4. Then as you begin to sense God stirring your heart in the direction of a relationship, do an objective appraisal of your life. I said to my self, "Nath? Sentiments apart, the way your life was, would you marry YOU?"
Continue reading.