A video of newly wedded celebrity couple, Adedimeji Lateef and Oyebade Adebimpe a.k.a Mo'Bimpe, has warmed the hearts of many social media users online.

In the video shared on Instagram by Mo'Bimpe, her actor husband went to hide inside a cupboard in their room because she told him to take his bath.
Curious to know about his whereabout, the heavily pregnant actress started looking for him around the room and decided to film the search process. She could be heard calling out to him to know where he was, but he responded saying she would not be able to find him.
She eventually traced his voice to the cupboard and opened it up to see him hiding in the bottom compartment of the cupboard. When she asked why he was there, Dimeji said he doesn't want to take his bath because the weather was cold.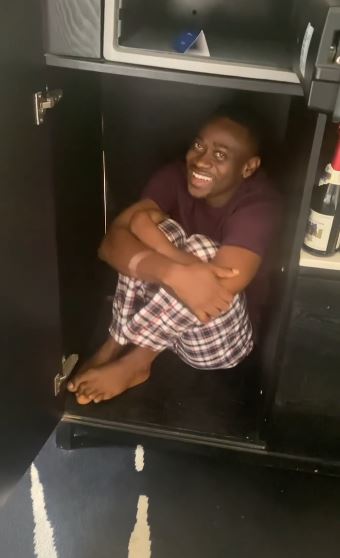 Sharing the hilarious video, Mo Bimpe wrote,
"My big BABY and I mean an actual BABY🤦‍♀️🤣 this is what I go through all the time 🤦‍♀️🤣🤣
I'm such a serious person but this guy here sure knows how to drag me out of my shell 🤩
Happy Val's to the man who makes me laugh like a fool every damm time 😂
I love you husband man @adedimejilateef 💋"
Watch below,