A pregnant young woman who documented her pregnancy journey on social media has sparked reactions due to the size of her almost invisible baby bump.
The expectant mother, who claimed she's over eight months pregnant, joined the trending pregnancy challenge, where women share how pregnancy changes their appearance.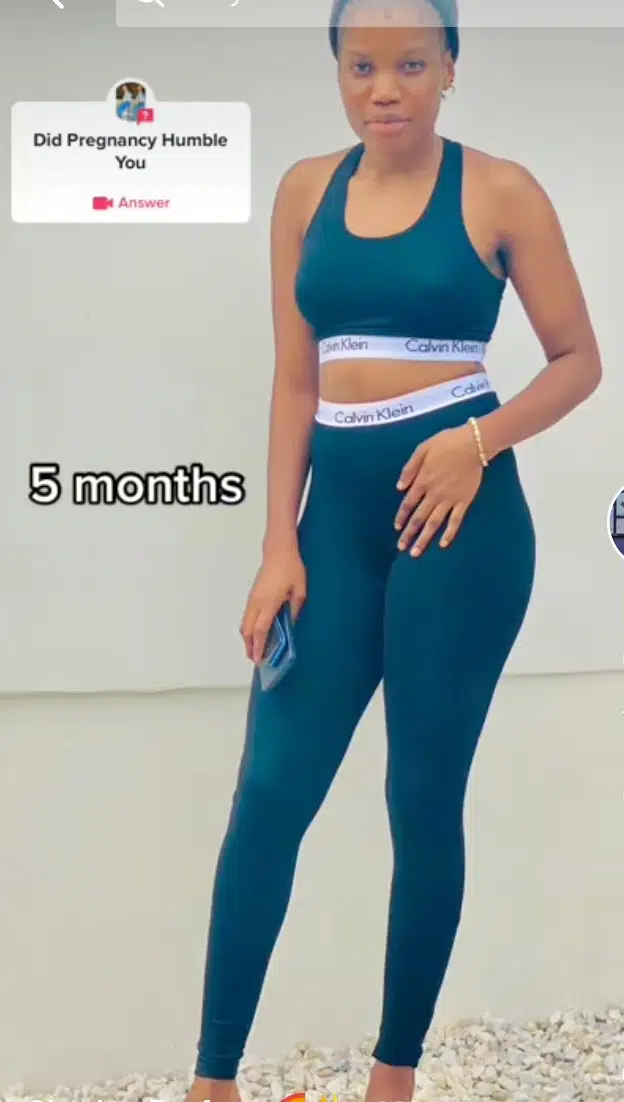 In the videos showing her belly when she was in the 4th, 5th, 8th, and now 9th month of pregnancy, her tummy remained flat.
Reacting to the clip, social media users questioned if the woman is really pregnant.
A TikTok follower @Nessie Morgan wrote, "9 month looking like my tummy. Or am I pregnant?"
Another follower @faithy wrote, "Your nine months na my belle when i never chop 😭😭".
Responding, the pregnant woman explained that she's always had an extremely flat tummy.
Watch video below,

In other news, in what she describes as "the most humbling experience of her entire life", a lady's video where she transformed abruptly after getting pregnant has wowed netizens on social media.
For some time now, ladies have been going on the internet to share videos of what they looked like before and after getting pregnant and so many of these videos usually thrill viewers.
That of this lady, identified as Precious Osamudiame is no exception as the video she made shows what she looked liked in different stages of her getting pregnant.
In the video she made, she shows what she looked like in the first few months of her pregnancy before her look transitions into something entirely different. Watch video here.