A pregnant woman went into labor while waiting in line to get cash in front of a bank in Port Harcourt.
When the expectant mother's water burst, everyone waiting in line to take funds from their bank was confused.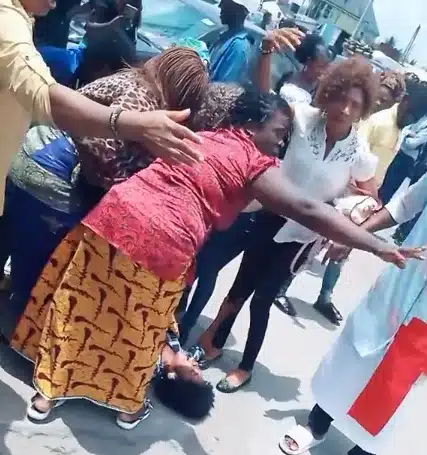 People were confused as they saw them frantically sprinting from place to place, attempting to help the woman get into a vehicle so she could go to the hospital to give birth.
According to a witness, the heavily pregnant woman started having labor contractions after she was forced to stand for hours in the hot heat to withdraw her money.
She was fortunately able to be carried into a cab that was heading to a local hospital by kind passerby.
Watch the video below,
View this post on Instagram
In other news, a Nigerian lady, simply identified as Uloma, has said that she will not support her husband if he has financial troubles.
The lady stated this while responding to a tweet asking what women would do if their husbands went broke and couldn't afford to pay their rent.
"I have a question for my girls. Say your husband is struggling financially and rent is due. Are you guys paying it or do you guys expect him to find a solution on his own?" The tweet read.
Reacting, Uloma stated that it's a man's sole responsibility to support the family, while a woman's responsibility is to care for the house.
She averred that when a woman helps a man with his bills because he's broke, she is taking away his masculinity.
"He's a man and his duty is to provide while yours is to make the home. When you provide, you're stripping him of his manhood and turning him into a woman. So let him figure it out on his own. It's best you become homeless than you pay the rent. That's how the patriarchy works." She wrote.