A hilarious video of power couple, Simi and Adekunle Gold arguing about their daughter Adejare's state of origin is making the rounds online.
In the clip, Adekunle Gold could be seen eulogising his daughter, Deja, describing her as "Omo Oba Eko," which means "Lagos princess."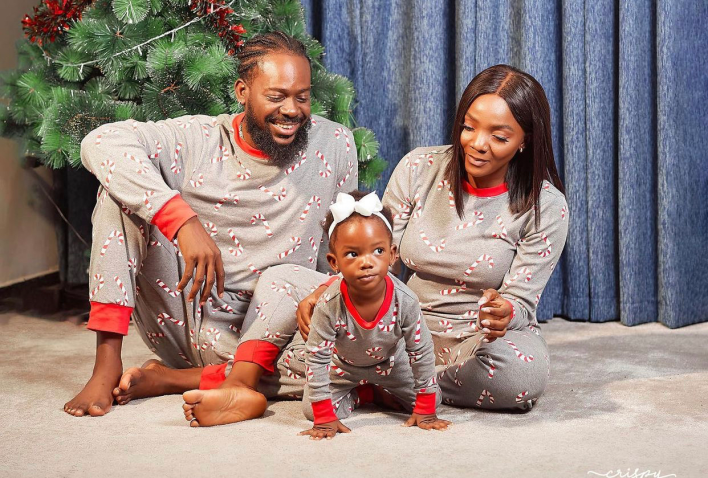 Simi, however, immediately countered her husband, insisting that their daughter is from Ondo State.
Simi stated that she would prefer that her daughter claim Ondo rather than an overcrowded state like Lagos.
Adekunle Gold, who wasn't giving up on the argument, further asked Simi when she last visited her village, and in response, Simi blamed him for it.
"It's because you refused to take me there," she said.
Sharing the video online, Simi wrote, "She's half Lagosian and half Ondosian. Dass on period.😭"
Watch the adorable video below,
Just recently, Simisola Kosoko, better known as Simi, stirred reactions after she posted a video of a game she played with her family members.
In the funny video she shared on her official TikTok page, Simi, who acted as the game master, asked her family members general knowledge questions and if they fail to answer it correctly within the specified time frame, she would throw a water balloon on them.
She asked her husband, singer Adekunle Gold, a question about Harry Porter movie, but he didn't know the answer, prompting her to throw a water balloon on him.
The mother of one did the same for two other persons present in their home, but they both failed the questions and she poured water on them as well.
When it got to her mother's turn, Simi asked her to name the country called the "City of Love" but her mother said Vernice, instead of Paris, forcing the singer to throw a water balloon on her face.
Her mother couldn't believe her eyes for a minute, then she cursed at her father like most African mothers do lol. Watch video here.