Former Nigerian footballer, Ogbonna Kanu, has surprised his wife, popular fashion blogger, Laura Ikeji with a new iPhone 12.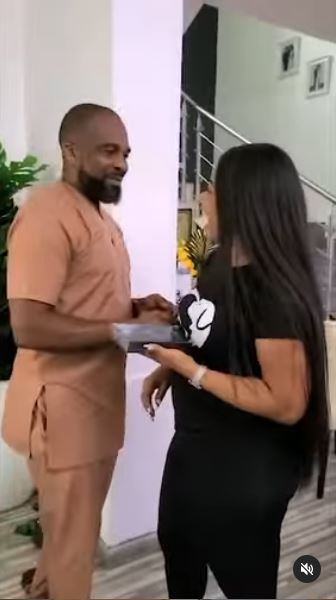 Laura who took to social media to express her joy after she received the surprise gift from her husband revealed she had complained to him that their kids damaged her phone.
To her surprise her husband replaced the small damaged phone with an iPhone 12 and thanked her for taking care of the kids.
Laura noted that she now has two iPhones and took to her Instagram page to flaunt them, "What's better than one iPhone 12 Pro Max …. 2!😂😂", she captioned a photo of herself showing off her two phones.

Sharing a video of the adorable moment her husband presented her with the new iPhone, she wrote,
"I told him his kids broke my samsung phone, and that if they had broken my iPhone which is my work phone, he'll pay!! 😂oh well, he came back now and replaced my small samsung with an iPhone, now I have 2 iPhone pro max 😂😂😂💃🏾💃🏾💃🏾💃🏾. Thanks baby (wondered why the help was filming initially ) @ogbobekee1 : I love gifts. Who wants my old iPhone?😉".
Watch video below,