At a time when many actors are opting to own choice houses in posh parts of Lagos, popular actor Aremu Afolayan is not convinced that they made their money through the craft.
The actor told Saturday Beats that Nigerians are quick to believe anything especially once it is on the internet but the truth is that most actors driving big cars most likely got their money from influential people.
He said, "By the way, I live my life, people tend to think that I am the richest Yoruba actor, but that is a lie. Nigerians assume a lot. I live in a rented apartment because I cannot afford to build one. When they see me buy a new car, they don't know if I paid for the car in instalments; instead they call me a big boy. What type of big boy lives on N50,000 or N100,000 income per film as an actor? I challenge any Nigerian actor that is living larger than life to state how they made their money because I am sure it is not from the movies they make. I am talking about both the English and Yoruba actors."

"If they like, they can say they make N5m per film, they cannot afford to build or buy a house at Lekki or Victoria Island or Ikoyi. It is impossible. They should call out mathematicians to figure it out. It is a lie. It is because they meet some influential people that give them businesses or they have side businesses. Since we do not all meet such people or make the kind of money they make through these people, we just have to be content with what we have. In my life, I have never seen an 'educated illiterate' country like Nigeria. Nigerians are very gullible when it comes to judging other people's lifestyle since they do not know anything, they assume. Then social media came and it made things worse."
The filmmaker who is often referred to as one of the most controversial actors in the industry for his outspoken nature told Saturday Beats that he was shocked when Nigerians tagged him as a homosexual simply because a picture of him pecking a man surfaced online. He said that at a time, Nigerians called him a gigolo. Now, they are referring to him as gay simply because of a publicity stunt.
"I went to a store with a friend to pick up a wristwatch I had been paying for in instalments. My friend was taking pictures when I told him that we should cause trouble on social media with a picture of me pecking him. When I posted the picture, it went viral within 15 minutes. In fact, we were still in the store when the picture went viral. I was shocked that Nigerians would even conceive the idea that I am gay because I love women. Anybody can be gay and I mean no disrespect to them but as for me, the picture was just done for publicity stunt. I never knew it would go viral that fast.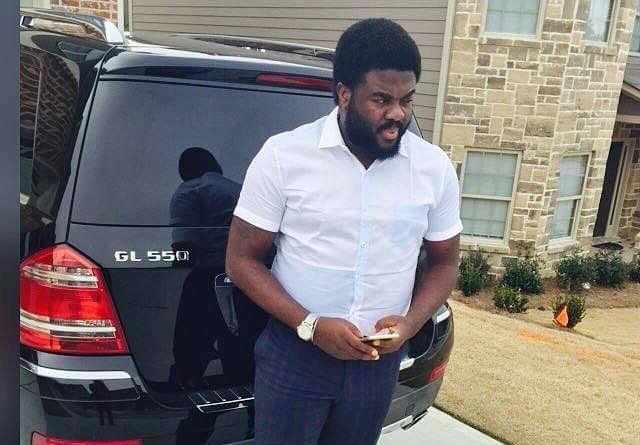 "People call me a gigolo; how come I do not have money? I know a lot of people that are gigolos and they are doing fine. If they say I am an actor and gigolo, why would I have to sell a car in order to afford another car? What is wrong with me buying Versace and Ferragamo? Why would I be a gigolo and not dress like a posh boy? Why would I be wearing slippers everywhere I go? So why should I answer the people calling me a gigolo? I do not have to convince anyone; when I know that at the end of the day, I would not waste my time convincing you about anything. You can think about anything you like but I am not here to convince anyone," Afolayan said.