A Twitter user with handle @EditiPeter has gotten people talking online after he posted a video of a pot-bellied man and a young woman having a 'moment'.
In the video, the elderly man who tied only a towel around his waist was spotted taking pictures of the young lady as she struck different poses on the balcony of an apartment.
Sharing the video, @EditiPeter wrote, "Look at your girlfriend with her sugar daddy on vacation".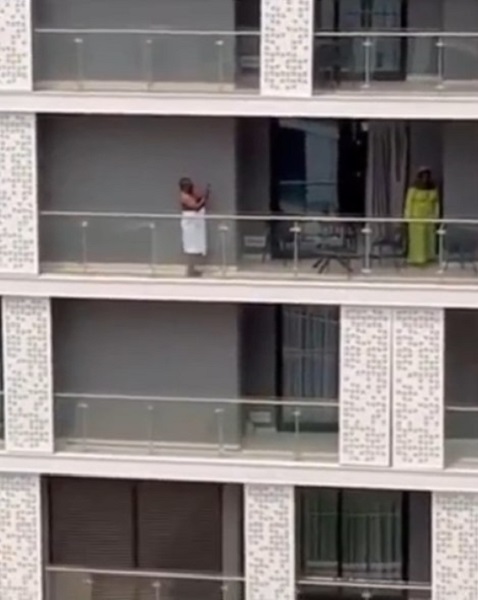 The video has since sparked a debate online as netizens opine that the lady could be the man's wife or daughter, and not his mistress as insinuated. However, some people were enraged at the man for filming the duo and invading their privacy.
Read some comments below,
@l.tobiloba wrote, "That could be his wife. People should learn to respect the privacy of others."
@emmy_rangerove wrote, "He can be her father either, have you video others in the room? Can't you see she is dressed for outing and the man is on towel? Maybe ceremony!
Stop making us to be single and have trust issues with girls 😢"
@callme_osinachi wrote, "That could be his wife. This videographer need mental evaluation!"
@rosythorne wrote, "Must everyone pot bellied man be a sugar daddy? Could be her boyfriend. Y'all film people and post online and act as if it's normal. Smh"
Watch the video below,