A Nigerian man on Twitter, Chinedu Ihekwoaba, has stirred reactions after he revealed the trivial reason he broke up with his girlfriend.
Chinedu, who questioned how young girls are raised in today's society, claimed that his relationship with his girlfriend ended when he saw her watching his mother sweep without offering to help.
Apparently, the young woman had paid a visit to her man in his home and met his mother sweeping. Rather than helping with the chore, she sat and watched the old woman complete her task.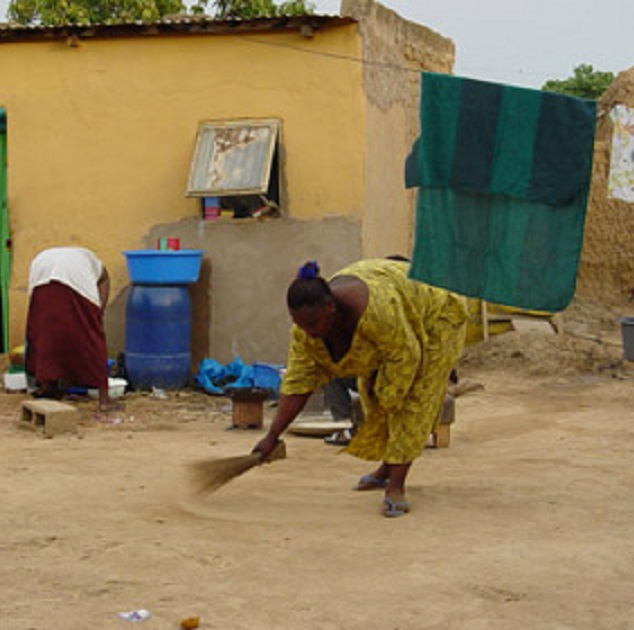 The young man was enraged by this and broke up with her as a result.
Narrating the incident on Twitter, Chinedu wrote,
"I knew I was done with this girl when she visited me at home. My mom was sweeping the living room and this girl literally raised her legs for her to sweep under the. When mom was done, she pointed at the door; leave my house! Now let's get serious, who raised all these girls? "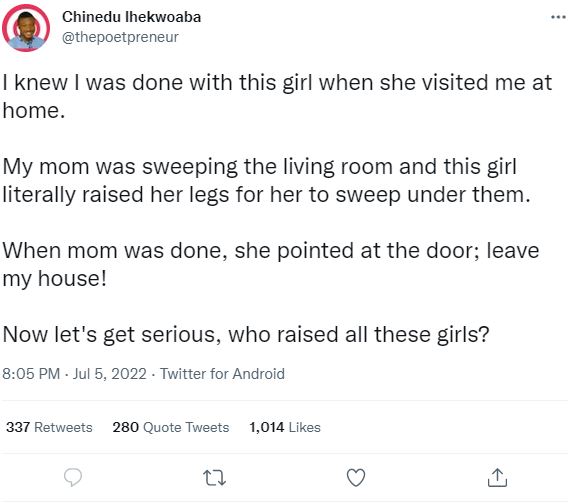 His revelation, however, sparked a number of reactions on the micro-blogging platform. See some comments as you scroll.
A tweep @Maggie56721814 wrote,
"So if the girl didn't come, won't mama continue the sweeping and u are u also allergic to sweeping? Why didn't u collect the broom and sweep before the girl came in? The fact that she didn't do it doesn't mean she wasn't raised properly. No be everybody like eye service."
@mobest7, "You were at home, u watched ur mum sweep without collecting d broom from her 😄 Ur mum couldn't caution u but was so quick 2 caution someone else's child (a visitor for that matter)😄 If she had raised you well, she wudnt be expecting someone else's child 2 collect broom from her".
A lot of the ladies under this tweet don't realize that the lady didn't fail the "test" because she didn't help the woman but particularly because she raised her leg when the broom got to her side.

See y'all will be forming woke until you become a mother. Even oyinbo go help out

— Seun Nuės (@daemperor007) July 6, 2022
So you just sat down and watched your mom sweep but you're expecting your visitor to collect the broom and sweep?? Pls let's be reasonable

— Her (@Vee_lavida) July 6, 2022
Trust me bruv, this isn't the scenario to use to send the message I think you wanna send.
All I see is a hapless girl fed into an awkward situation set up by a worryingly archaic woman and her mama's boy son who'll prolly die alone trying to marry his mother all over again.

— °•°Your suteki no Senpai•°•😋 (@Homer_Siri) July 6, 2022
Of all the times to sweep her son's house while she was there, she chose when you had a visitor. A house that could have been swept earlier or even after the visitor leaves?

Except of course, you already planned with your mum to 'test' her for whatever reason

— Zinny Ukachi – YouTuber | a.k.a Shuga (@zinnyukachi) July 5, 2022