A young Nigerian man from Kaduna state simply identified as Dankaka has come under heavy fire from Nigerian Muslims on Twitter for holding his Christian girlfriend's hand on a date.
Dankaka and his bae recently went out on a date, and the young man decided to share photos from the outing on the micro-blogging platform. However, the photos didn't sit well with some Muslim folks on the platform, who didn't hesitate to air their displeasure and how the photos were against their doctrine.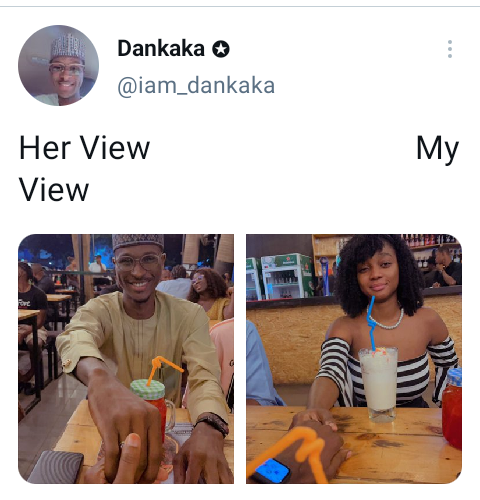 Reacting, a Muslim tweep, Ismail Yushau, averred that Islam forbids an adult to hold the hands of a woman who is not his wife. 
"In Islam doctrine it is prohibited for an adult to hold a lady's hands like this. Right your wrong", he wrote.
Corroborating Yushau's stance, one Mrs. Baffa wrote,
"Ma'qil ibn Yasar reported: The Messenger of Allah, peace and blessings be upon him, said, 'For a nail of iron to be driven in the head of one of you would be better for him than touch a woman who is not lawful for him".
Another tweep wrote, "In Islam doctrine is prohibited for an adult person to hold a lady hands like this, right your wrong".
When asked if he would convert his girlfriend to Islam, Dankaka replied, "Insha Allah." 
See more reactions below,