A man was left devastated after he realized he was tricked into buying a phony Apple MacBook.
The man had recently bought the new device, which he had thought to be an Apple MacBook.
He shared a video of the moment he unboxed the supposed MacBook and discovered that the content of the box wasn't even a laptop but a packaged floor tile decorated to look like an Apple PC.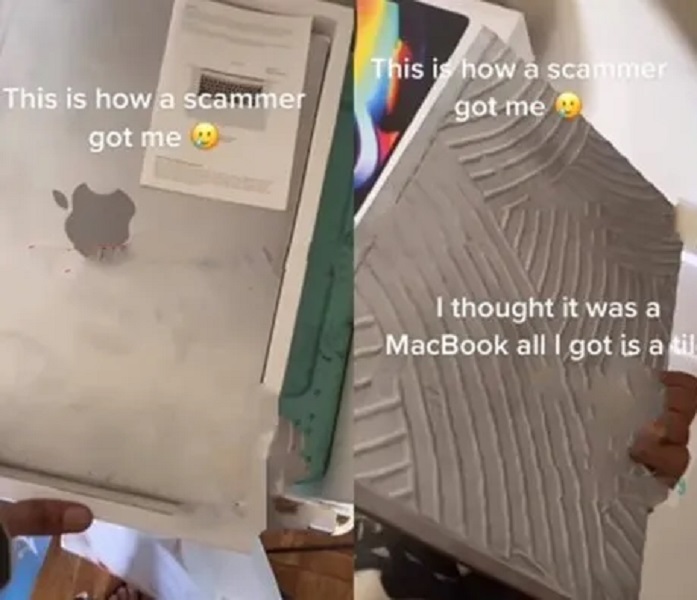 More shockingly, a handbook and a few other accoutrements that typically go with the gadget were included with the tile.
The victim shared the video on social media, with the caption,<em> "This is how a scammer got me. I thought it was a MacBook, but all I got was a tile. "
Watch video below,
In other news, a young Nigerian man has raised concerns about the source of his wealth after claiming that he only has only two years to spend N8 billion.
The young man identified as "Guccilord26" on TikTok took to the platform to document how he's spending the N8 billion which, according to him, he must expend in two years.
According to him, in an effort to finish spending the money in two years, he recently acquired a multi-million naira mansion in Banana Island, Lagos state.
He also showed off mansions and cars which he claims belongs to him.
Guccilord, who in a subsequent video, reiterated that he has only 2 years left to spend N8 billion, showed he and his friends dining in a pricey restaurant, and referred to them as ritualists.
"Still spending 8billion with my ritualists, 2 years left", he wrote.