A man identified as Destiny who traveled to the United Kingdom has returned to Nigeria to reconcile with his mother whom he abandoned for half a decade.
Destiny traveled to the United Kingdom five years ago in pursuit of brighter pastures, but he claims a preacher abroad tricked him with a revelation concerning his mother, prompting him to cut her off.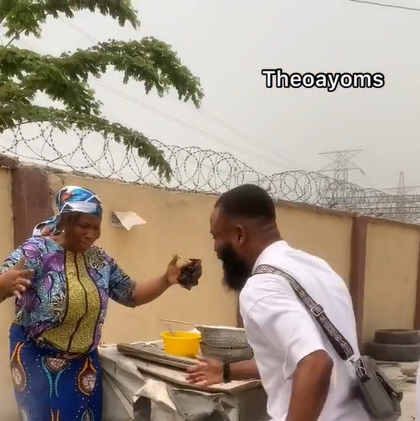 In a video with TikTok content producer Ayoms, he described what transpired and stated that he had made peace with her.
Destiny revealed that when he arrived overseas, a friend took him to a cleric who spoke horrible things about the woman who gave birth to him.
The young guy stated that he was so angry that he refused to contact his mother since then, nor did he offer her any financial help although knowing that she sold akara.
He said;
"When I got there, a friend of mine took me to one of his churches. The man of God there twisted my mind towards my mum. So, it has not been easy. He said so many things about my mum I could not even place my hands on. I could not reach out to my mum or talk to her. My mind was so bitter."
Destiny went on to say that he ended up in prison due to paperwork issues, and that while there, he had a strange dream about his mother.
"I dreamt and I saw my mum fighting for me. The shocking part of it is that she was fighting and holding my papers back from them," he explained.
In the same video, upon his return to Nigeria, he visited the spot where his mum fries akara and scattered everything.
He announced that he was back to take care of her and begged her to accept him back that he was remorseful and they made up.
Watch the video below;