Nigerian actress and filmmaker, Mary Remmy Njoku has objected to her colleague, Uche Ebere's stance that a 12-year-old has no business attending a boarding school.

Uche had stated this in reaction to the death of 12-year-old student of Dowen College, Sylvester Oromoni, who died after he was reportedly bullied by his seniors.

According to her, the only justifiable reason for a child to attend a boarding school is if his/her parents are divorced, the mother is dead or there is no one to take care of him/her.
See below,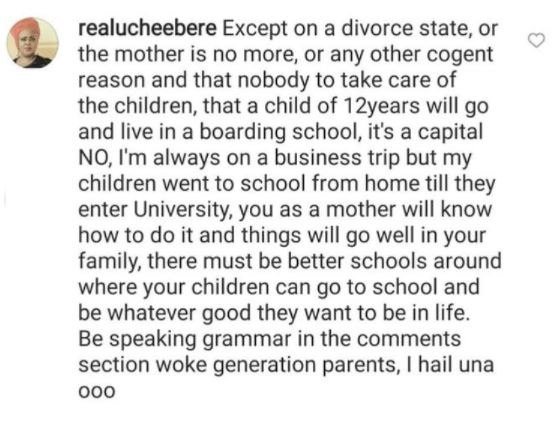 Mary Remmy Njoku, a mother of three, has however disagreed with her stance, stating that no one has the manual on how to raise a child.
She added that some children who were homeschooled still ended up as rapists and robber.
She wrote;
"As a mother, I disagree with you. No one has the manual on how to raise a child.
Different families, different circumstances, different income, different children.
I mustn't raise mine like yours.
Las las there are still rapists and robbers that were homeschooled."
See below,