Police Zonal Public Relations Officer, Dolapo Badmos, a Superintendent of Police, brings finesse into her police life and even at social functions, she remains the toast of many.
In an interview with PAUL UKPABIO and BIODUN ADEYEWA, of The Nation, she talks about her love life; why she almost dropped out of her police training course and how she missed death narrowly during a police shoot out with robbers.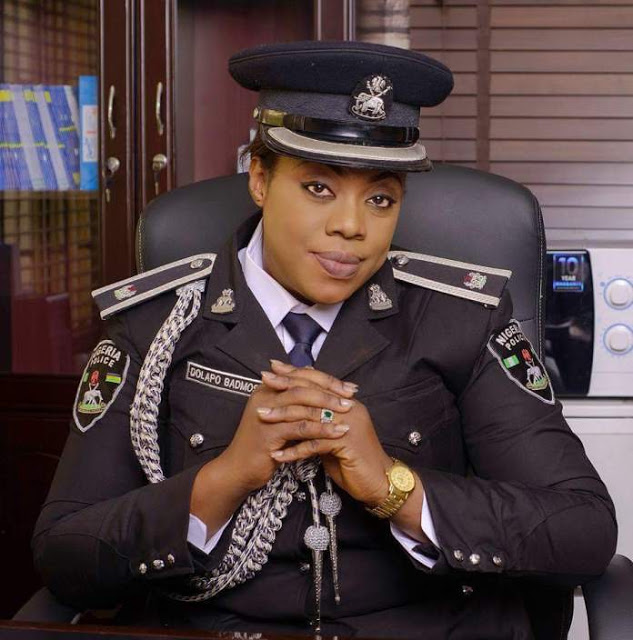 Congratulations on your recent elevation. Can you enlighten us about your new designation?
I was the Police Public Relation Officer Lagos State, but I have been elevated to be the zonal PRO. That is, the jurisdiction covering Lagos and Ogun states. That is my present position. The police public relations office is at levels; we have the state command, the zonal command, and then The Force PRO. That is a bigger assignment, how do you shuttle between the two states? Its a duty and it is do-able. Today I am in Lagos, tomorrow I will be in Ogun State. I have been juggling daily work between the two states. For me, it is not a burden because I have always had passion for police work. Presently I am on higher ground and I am enjoying it, even though it is a tough work. I still enjoy it because of the passion.
How do you handle being beautiful?
I have been handling that since I was young. I remember while growing up, my mom used to tell me that I am beautiful, that I have big eye balls. My mates then used to talk about my big eye balls and when I got home, I used to report them to my mom. Instead my mom used to look at me alarmed that I had the best thing in the whole world. My mom made me to grow up knowing that I am a beautiful woman. This is a joke, but during those early days while I was at the Police Academy and during our parades, the men among us used to miss their steps because they were usually looking at me (she laughs at the memory).When the instructor said move to the right, some of them would move to the left. I don't want to mention their names because they are likely to read this. But I still make jest of them from time to time when we are all together.

When men tell you that you are beautiful, how do you react, first as a police officer and then as a lady?
Some people just say it as a compliment and nothing attached. When I see such people, I figure it out because I can sense sincerity when I see it. 'Oh thank you', is always my answer. But when I sense that there is more to the simple compliment, I easily ward off the person. I don't fight anyone for having interest in me. I manage the situation. Some of them I immediately start calling them my uncle which tells them exactly what they are to me. When I am not in a police uniform and someone is overdoing a compliment, sometimes I just scare them by asking, 'Can you handle a police officer?'' And the next question they usually ask me is, 'Are you a police officer for real?' And then I will reply, 'Yes, I am.' And then the change of discussion. But some will tell you they don't mind.
'It is you that I see, I am not seeing a police officer.' Then I will say, 'Sorry I am married,' to put them away. Some men are stubborn, so the best thing is to cut off from them.
And what can you say about your husband?
He is a fantastic guy. He has told me that I should keep him away from my work. I met him after my graduation and national youth service programme. We have been married for several years now.
Have you had any close-to-death experience so far in your career?
Yes, I've had. I am a very inquisitive person. I always want to learn. When I was on attachment, I heard there was a robbery incident. My Divisional Police Officer (DPO) mobilised for the police to move to the scene. I said I wanted to be there with the DPO. The DPO said that I should remain at the station.
But I had already signed for a pistol. That was how I was part of the team. However, 200 metres away, we ran into a shoot out. I held unto my pistol as there was firing and cross-firing. It was no joke. It was a heavy exchange of fire. At a point, I had to summon courage to say my last prayers. I told God that if that situation led to my death, please forgive my sins, and if I am meeting you God at this point, just because of my national assignment, accept and forgive me into your kingdom. Meanwhile, the exchange of fire was raging on. I remember that we lost a policeman in that shoot-out. But our team was able to kill three of the armed robbers in Abuja then.
That was a near-death experience for me. I will not say that it scared me, but I would rather say that it made me to realise the thin line between life and death. That happened about 13 years ago.