Lionel Messi was unable to yesterday, rescue his team during the semi-final game against Liverpool.
Messi was unable to make an impact in the game that saw barca lose to the English giant 4 goals to nil.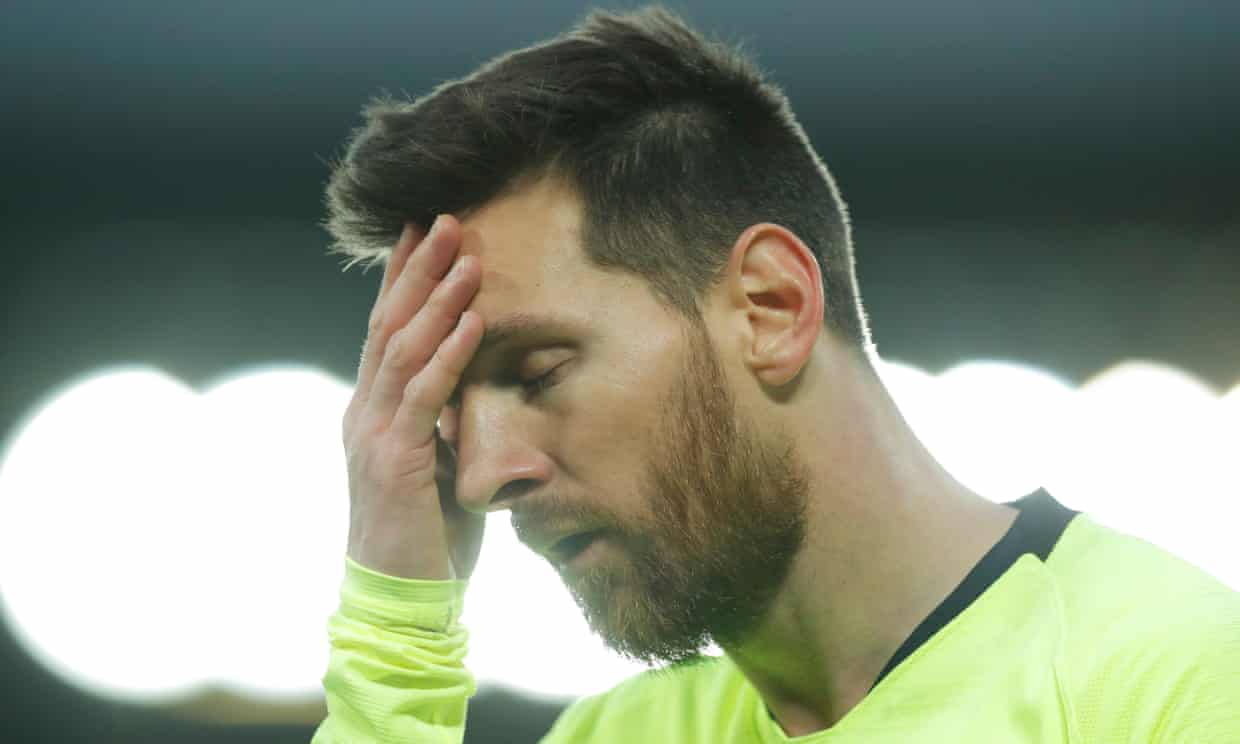 Now, Nigerians, who are absolutely hilarious are now comparing the striker to Nollywood Actress, Mercy Aigbe on Social media.
Aigbe has reacted, taking to her page, to share the above side-by-side photos with the footballer, she wrote; "Nigerians will not kill me oh ?‍♀️?‍♀️?‍♀️ Wetin be my own for this football matter, that people have been tagging me since ?‍♀️"
The tweets and perspectives are totally hilarious. See below;
Retweet if it was Messi Aigbe today at Anfeild
like if it was Lionel Messi pic.twitter.com/vZWIxnGBsW

— Mcchemical (@McchemicalCFR) May 7, 2019
Barcelona Messi in Spain vs Barcelona Messi aigbe outside Spain especially against Liverpool #LIVBAR pic.twitter.com/2lQW8Dw6i3

— EDc ✂️ (@daniiel_ce) May 7, 2019
Barca fans please take it easy. Your #GOAT can still do more next season. That's if he is not Messi aigbe or Messi Johnson anymore. #LIVBAR #UCL pic.twitter.com/xTPTxNrIjU

— Charles Okechukwu (@Charlzchuks10) May 7, 2019
Wait? Where are those that say that Messi Aigbe played today instead of Lionel Messi ??? #LFCBarca #LIVFCB #NeverGiveUp pic.twitter.com/gDa5Pe5mgl

— BOSSMANN™ (@AlajedeYeseer) May 7, 2019
Someone said is Messi aigbe that played for Barça tonight… #LIVBAR pic.twitter.com/YjFRJkfi5L

— Toyese peter (@IamToysman_1co) May 7, 2019
Barcelona Fans: No be say den no go troll us, den go troll us, troll us tired. If you like call him Messi Aigbe or Messi Johnson, you go Messi him anything tired. pic.twitter.com/3SY5ZqpGUS

— Adetola A. Kehinde (@Optimistic_Ade) May 7, 2019
Who on tweeter came up with you this big messi Aigbe talk pic.twitter.com/uORhu6Uu2c

— Mcchemical (@McchemicalCFR) May 7, 2019
Ronaldo chilling at the Grand Canyon knowing he will never blow a 3-0 lead twice. Meanwhile Messi Aigbe is trending??? pic.twitter.com/AhzI8fJoPF

— ᴏᴍᴀsᴏʀᴏ ᴀʟɪ ᴏᴠɪᴇ™☤ (@ovieali) May 7, 2019
So Messi Aigbe played a full match for BAR…..Ayemi! #LIVBAR pic.twitter.com/m3oTN850zs

— Olaphil Auto (@OlayemiAdebay13) May 7, 2019
Too much work at the first leg must have caused messi aigbe sorry Lionel messi to lose weight kia pic.twitter.com/QQK9YkPMP9

— Mcchemical (@McchemicalCFR) May 7, 2019
Should we use Messi Aigbe or Messi Johnson as our WCW? or both because they will never walk alone.#DoYanga pic.twitter.com/06qVmE1at8

— YangaWin (@yanga_win) May 7, 2019
Gbas Gbos ?….and someone went from being a GOAT ? last week to being a scapegoat this week?….all hail Messi Aigbe ?? pic.twitter.com/C8h3EkNFQm

— ◄ eL Gato? (@alpha__canis) May 7, 2019
Dis to the person who brought up dis Messi aigbe trending topic…????? pic.twitter.com/N56tBTb4nF

— loner (@Funnybo89896218) May 7, 2019
RT niggazoid: Barca, Barca, because of you I can't open my whatsapp

I have so much messages it feels like my birthday. Only this time, na insult.

They called my GOAT Messi Aigbe, one bastard also said they used the GOAT for itunu awe

*deep sigh*

God… pic.twitter.com/hNWsyPOsMi

— YouthRising (@YouthRisingNG) May 7, 2019