Reality TV star, Mercy Eke, has set a new record as she becomes the first Big Brother Naija star to be verified on photo-sharing messaging app, Snapchat.

This comes after she vented her anger on the developers of Snapchat, noting that she has over 1 million followers and massive engagements on her posts and ought to be verified already. She further threatened to stop posting on the platform if she is not verified.
The millionaire businesswoman wrote in a social media post,
"With over 500k views and over 1m followers here you need to verify my account Do your statics or I will stop posting".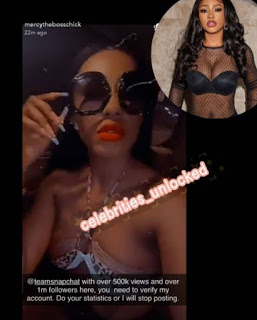 It appears the developers got her message as they have finally verified her on their platform.
Recent checks on her account shows she has the yellow star icon (which denotes verified) beside her name.