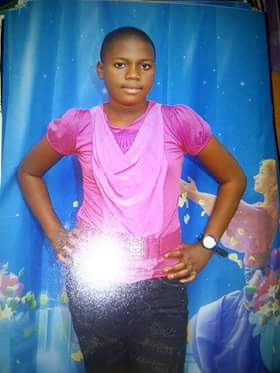 Here's a message from Rodoye Rasaq who is reporting his 12 year old younger sister, Adijat Oluwabunmi Rodoye, has been missing since June 26th. He wrote:
"My name is Rodoye Rasaq, please my younger sister is missing from home, she packed some of her clothes and left home on the 26th of June, 2016 after her parent left home, her dad went to work and her mum went to a friend party, so she told our neighbour that her dad sent her to her grand-father which was false, she use that has an excuse so that she can run away.

Please kindly help us to upload this in your blog, I will appreciate if you can help us, this is the 25th day she has left home, her mum has not be eating, we have reported the issue to the near by Police in Oshodi (Akinpelu Police Station).

RODOYE ADIJAT OLUWABUNMI is her name. She is 12 years plus, she has a matured stature, like age 15.
Below is daddy, mummy and her brother contact

Address: 29, Adedeji Street, Off Afariogun street, Oshodi, Lagos State.

Telephone:
Dad: 08038360876, 08081188005, 08074399458
Bro: 08108522216, 08054997909, 08113938631
Mum: 08083768998, 08108378607
My e-mail: [email protected]

Facebook: Rodoye Rhazaq O.

Or u report to d nearest Police Station. Thank you so much.