A video that captures the moment a seven-storey building collapsed in Banana Island, Ikoyi area of Lagos state has been shared online.
The incident occurred on 1st avenue in Highbrow Banana Island on Wednesday afternoon, April 12, while concreting was ongoing on the sixth floor.
In the viral video, the building under construction, which had people walking on the top floor, abruptly caved inwards as bystanders screamed in shock.

It was gathered that the building collapsed after a truck ran into it.
Fortunately, no lives were lost in the collapse, according to a statement released by the Lagos State Emergency Management Agency-LASEMA.
The statement reads,
"Situation report on the collapsed building at 1st Avenue, Banana Island, Ikoyi.
Upon arrival of the LASEMA Response Team at the scene of the incident, a six storey building under construction was found to have collapsed. Information gathered revealed that the building collapsed as a result of a truck that ran into the building.
Fortunately, no loss of life, however, efforts are ongoing to reconstruct the building to ground zero so as to forestall any secondary incident.
Recovery operations ongoing."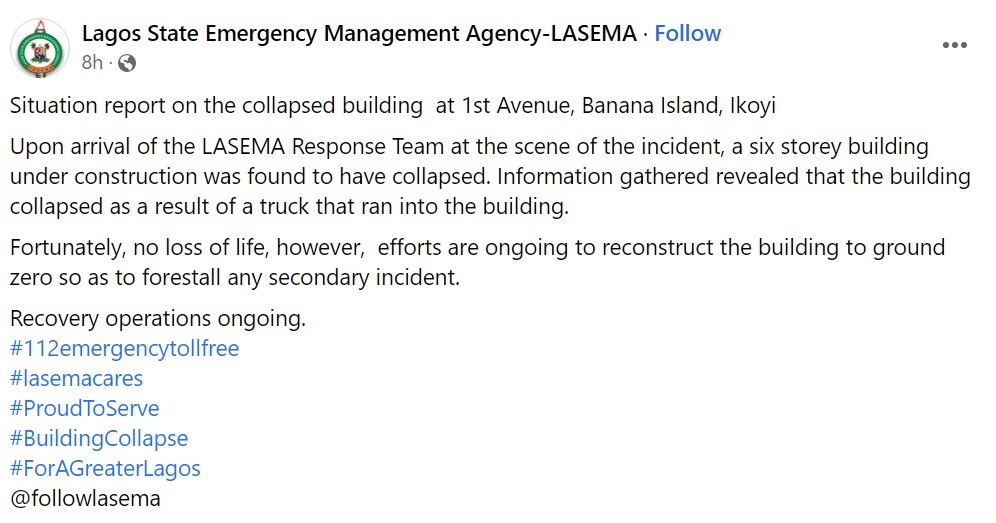 Watch the video below,