A Nigerian engineer identified as Nnayi David on Twitter who recently relocated abroad has vowed never to come back to Nigeria.
Taking to his Twitter page in the early hours of Wednesday, February 10th, the Engineer whose bio now reads "Dublin City, Ireland", stated that regardless of what happens he'll never come back to his father land.
His tweet reads, "If I perish I perish but will never go back to Nigeria".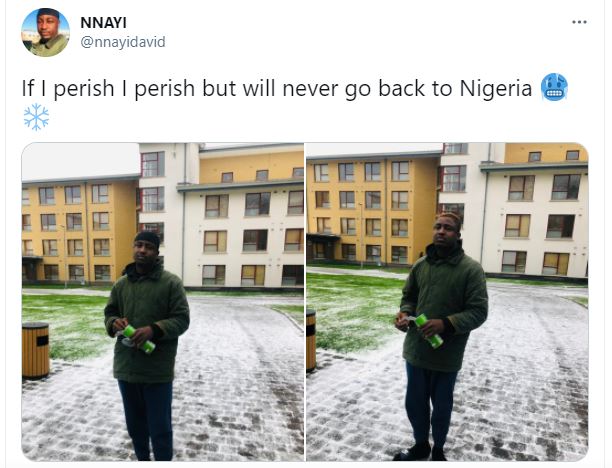 Meanwhile another Nigerian man known on Twitter as Duke of Africa, has advised his fellow countrymen to follow in his footsteps and travel out of the country.
According to the man who relocated to Charleston, Illinois in the United States of America, Nigerians need to go to where their worth will be appreciated.
Duke of Africa with the handle @Allezamani, shared photos of himself at a coffee shop in Charleston, taking home his order and said that he has left Nigerians for others back home.
He wrote,
"Go to where they'll know your worth. I don leave Nigeria for una."