NAFDAC officials raided the skin-care outlet where a lady was recently spotted, 'peeling' her skin in a water filled with some sort of chemical, all in the name of bleaching.
We recently brought you the video, where a woman was seen lying in a bathtub filled with water while an attendant was seen carrying out the exfoliation process.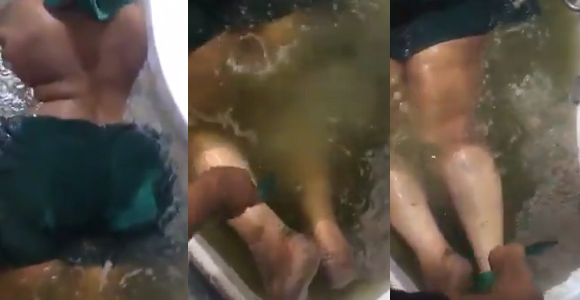 The facility was raided today December 4 by officials of the National Agency for Food and Drug Administration and Control, after the agency received a petition about the skin care outlet.
READ ALSO: Man turns prayer warrior after a prostitute he picked up for sex started 'manifesting' after her waist bead cut during sex (video)
This came after the owner of the facility lashed out at her critics after a video of the new bleaching process ignited an uproar.
In the video shared online, NAFDAC officials were seen removing some of the skin care products for tests which will be carried out at their office.
Here is the video below;
READ ALSO: Viral Video Of Gospel Singer, Ohemaaa Jacky Allegedly Undergoing Rituals For Fame