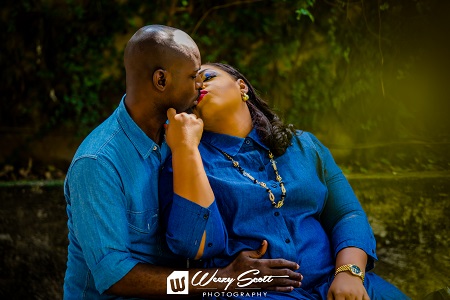 Victor and Annabel met on a low-key note during one of the dating seasons of popular Nigerian blogger, Stella Dimoko Korkus' 'Single Mingles' session virtually a year ago, according to preliminary reports gathered about the duo who have remained private about their romance.
Annabel from Edo State shared her contact with a short piece on the kind of man she wanted and Victor from Akwa Ibom who didn't know the provisions of the future made his move as a gentleman by contacting the damsel. They both proceeded to the BlackBerry Messenger where they intensified their conversations and events went seriously romantic.
The union survived all obstacles and distractions till Victor looked around his world and realized there was no other befitting woman but his light-skinned Ann. So, he proposed a few months ago and she said YES! excitedly.
The marriage preparations have been concluded and the beautiful couple will be getting married in November, 2016.
We wish the two love birds a blissful marital union as they continue their life journey together.
See more of their beautiful photos: