A Nigerian man, identified as Uzor Bobby has celebrated his ex-girlfriend on her birthday in a very unusual way.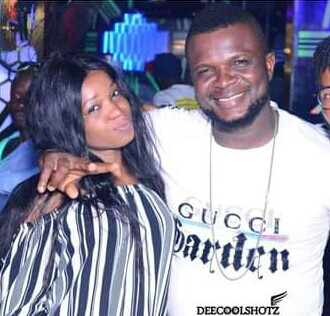 Uzor took to Facebook on Sunday, December 13th, to celebrate his ex on her birthday and prayed God blesses her with a better man that she won't cheat on with married men because of her love for money.
Sharing loved up photos of them together, he wrote,
"Happy birthday to my ex. May the good Lord bless and give you a man better than me if you won't cheat on him with married men because of excess money. It mustn't end in marriage. #NoBadEnergy."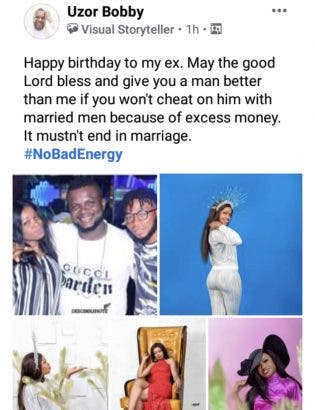 However, Uzor received backlash on social media over his post. Nigerians criticized him for calling the lady out, despite not being in a relationship with her anymore.
In a heated exchange with a Facebook user, who insinuated that Uzor's ex probably cheated on him because he couldn't take care of her or marry her, he claimed that he had gone to meet her parents few days ago only to find out that she was in an Owerri hotel with another man.
He wrote,
"December I was in their home town to meet her parents, when she was called it happened that she was in a hotel in Owerri with a guy from Russia. Bro, she later called and begged and I forgave her, yet she kept doing it. I have like 23 guys with her, I have my evidence.

"I lived in California. Was in Israel last year for pilgrimage. I have been to China for six times, Canada and Dubai. I am the CEO of Beliuzment Reliable Solace Ltd. I don't like your reasoning."
In reaction to Uzor's post, another Facebook user, Ekenedilichukwu Ugwoke stated that Uzor's former lover left him because he was "childish."
Ammy Dozie wrote, "Acting childishly. See how you are disgracing yourself here thinking that you can talk. Even some responsible men here are angry with your post."
Chidinma wrote, "Now I know why she dumped you. Your mouth runs runs like tap without control. Nonsense".
See more reaction below,