A trending video has captured the romantic moment a Caucasian man proposed marriage to his male Nigerian lover and received a "yes".
In the video, which was shared on social media by crossdresser Jay Boogie, the pair were out at sea when the Caucasian man decided to pop the question.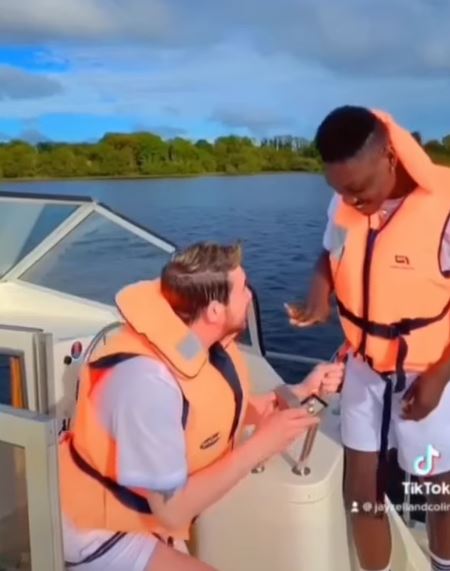 He brought out a box from his pocket, went down on one knee, and asked his partner to marry him.
The Nigerian man, who was taken by surprise by the proposal, gave a resounding "yes" as he stretched out his finger for his partner to put the ring on.
Watch the video below,

In other news, relationship expert, Blessing Okoro, has paid a visit to her son, Darel Lucky Okoh, at his boarding school, a few days after her release from police custody.
Recall that the controversial internet celebrity was arrested on April 1st for alleged cyberbullying and was released a few days ago after spending two weeks behind bars.
After her release, she visited her son in school and shared the adorable mother-son moment on social media.
In the video, Blessing asked her son what he had heard about her during her absence. In response, he disclosed how surprised his teachers were when they found out that he is the son of the self-acclaimed relationship expert.
He claimed his teachers told him that he looks nothing like his mother and added that his mother had gained weight since the last time he saw her.
Blessing promised to visit him again on his school's next visiting day but asked him to remind her a few days before as she may forget.