With no end in sight to the over six-month-old ASUU strike, it's safe to say that the bulk of Nigerian students have gone on with their lives.
A student of a public university, who is one of those affected by the lingering strike, recently tied the knot with her course-mate.

The newly-wed simply identified as Leemah, who joined the 'before and during ASUU strike' viral TikTok challenge, narrated how she and her beau decided to make their relationship official after endlessly waiting for the strike to be called off.
She shared a video compilation that traced their relationship's growth from their time together in school to when they were waiting for the strike to end at home, so they could complete their studies.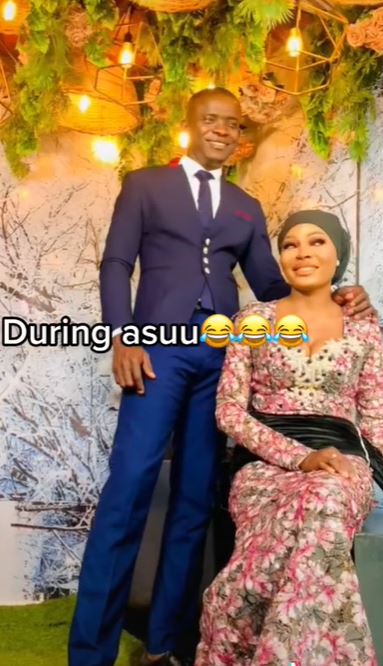 Well, they eventually got married, despite school activities still being on hold due to the strike action.
A portion of the video Leemah shared on social media showed them at school prior to the strike, and another portion showed them at their traditional wedding and registry.
Watch video below,

In related news, A female student of a federal university in Nigeria has taken to social media to share her amazing 'before and during ASUU strike' transformation.
In a trending clip, the student, who is one of those affected by the lingering 7-month strike, shared pictures of herself taken before the strike began.
She then shared a video compilation of how things are going for her since the strike began and she's presently heavily pregnant.
She showed a picture of a positive test strip that confirmed her pregnancy, and videos showing her huge baby bump.