Omolara Busari, 29, was left with no choice than to call off her wedding after she became a victim of domestic violence from her fiance, Adelekan Adelufosi.
Omolara, who is an indigene of Iseyin in Oyo state disclosed that she'd endured an abusive relationship with her fiance, Adelekan, 32, for four years.
The lady who spoke with Punch, revealed she'd only challenged her fiance when he asked her not to ever relate with any other woman who lives in their area.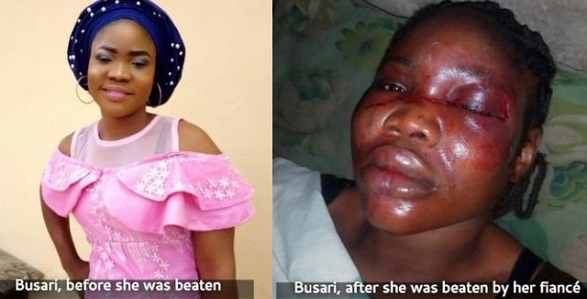 She said,
"There is a woman who lives in my area, close to my apartment. We were just discussing and greeting each other when he (Adelufosi) showed up.

"Later, he went to the woman's shop and warned her not to ever see her around me again. When we entered my apartment that night, I asked him, 'Why did you do that?'

"That was the last thing I remembered saying. By the time I opened my eyes, I found myself in a hospital."
When asked why she held on to the man despite his abusive nature for so long, Omolara said it was because she had a daughter for him.
She said,
"Actually, I wanted to marry him because I have a daughter, who is two years old, for him. This is what kept me glued to the relationship. But this time around, I don't care. Our relationship has ended and I have cancelled our wedding.

"Right from the beginning, my parents and siblings didn't approve of our relationship, but I thought maybe after our wedding, he would change.

We were already planning our wedding for August 2019, but like I said, it cannot hold again."